This Fiat LED door sill is made of Japanese acrylic material, high-quality products can be purchased with confidence. It can decorate your car and add an elegant appearance. It can also protect your car's sill from friction and improve the safety factor of people getting off the car. The pattern style on the door sill pedal can be customized. We believe your friends, family and children will praise you for installing this kind of LED door sill.
This Fiat LED door sill is waterproof, wear-resistant and corrosion-resistant, and can provide good lighting for your car. It has 7 light colors to choose, and it does not have any pollution and radiation, which can help you get on and off the car easily. You can customize the LOGO, and we will provide professional customization services. When you and your passengers open the door and see your LOGO lit up, it will be a pleasant thing.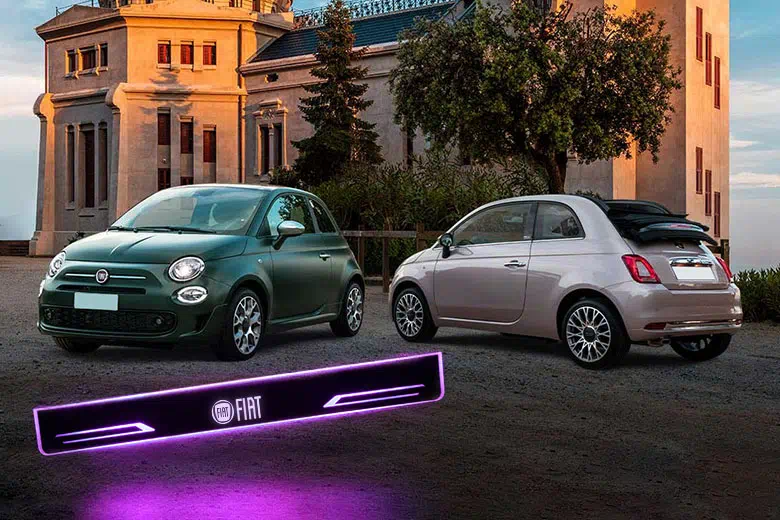 This Fiat LED door LOGO projector is a car lighting decoration with a pleasing visual experience. It is made of high-brightness LED chips and high-definition projection lens sharpness. When you open the door, the clear LOGO/pattern will be displayed on the ground, and when you close the door, the lights will go out. AOONUAUTO can also customize the projection pattern for you, as long as the picture you provide is high-definition.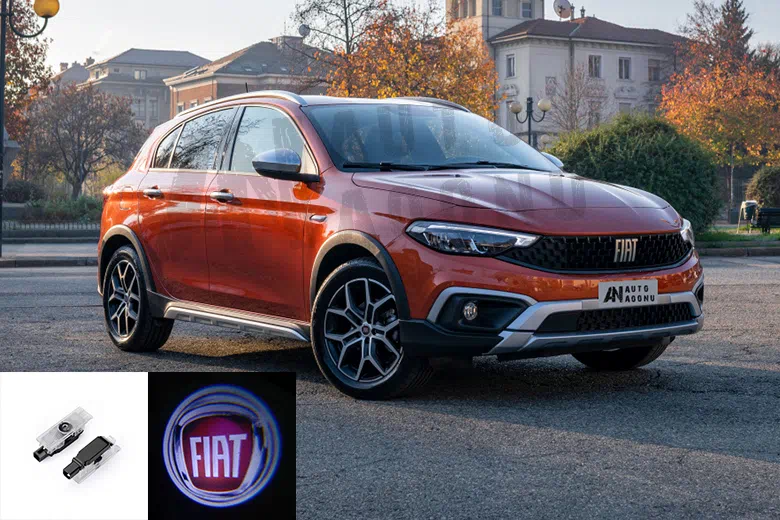 If you want to make the interior of your car more stylish, this Fiat LED floor mats is a good choice. Various light colors can be adjusted by remote control. It is waterproof and wear-resistant, easy to install, and suitable for the front and rear seats. You will surely be happy when you are on the road with your family or friends.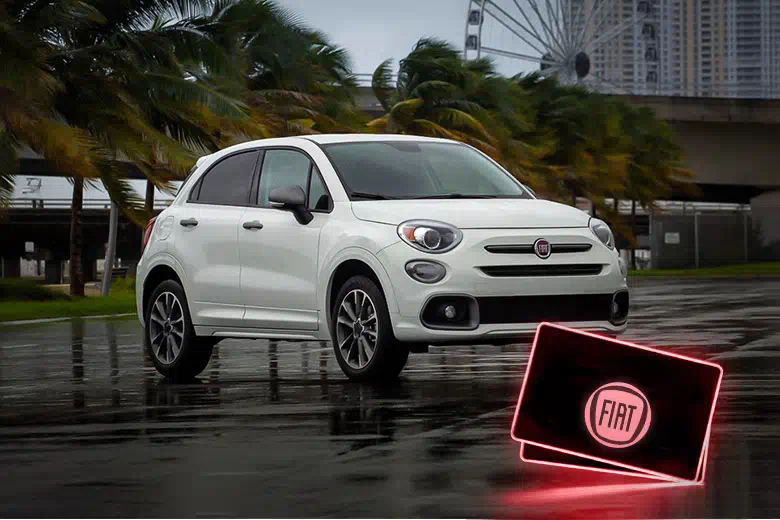 This LED underbody light is waterproof, durable, and very thin. It can be easily installed in the gap and is almost invisible. It has 8 light colors and multiple modes, you can switch freely according to your preferences. When driving on the road, it makes your car look more upscale.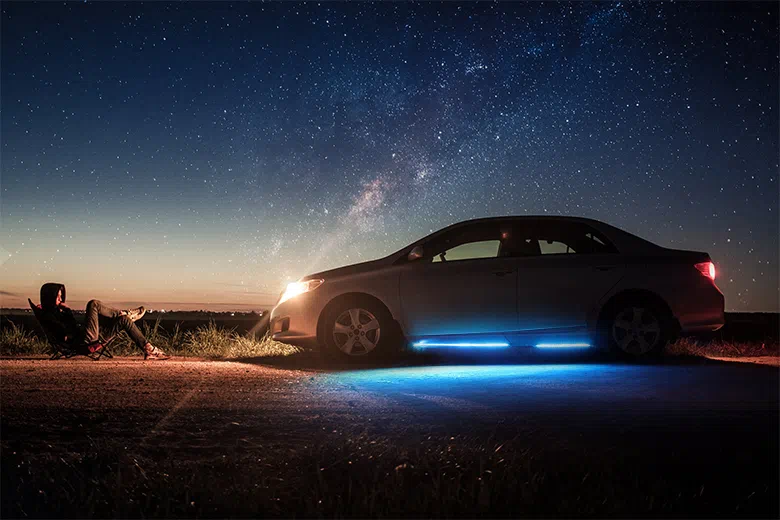 The interesting and active interior decoration lights are very suitable for soothing your mood and reconciling the emotional atmosphere between the passengers in the car. When you open it, you will find that the interior of your car becomes very beautiful and unique. Whether traveling with friends and family, or carrying passengers, it is very suitable.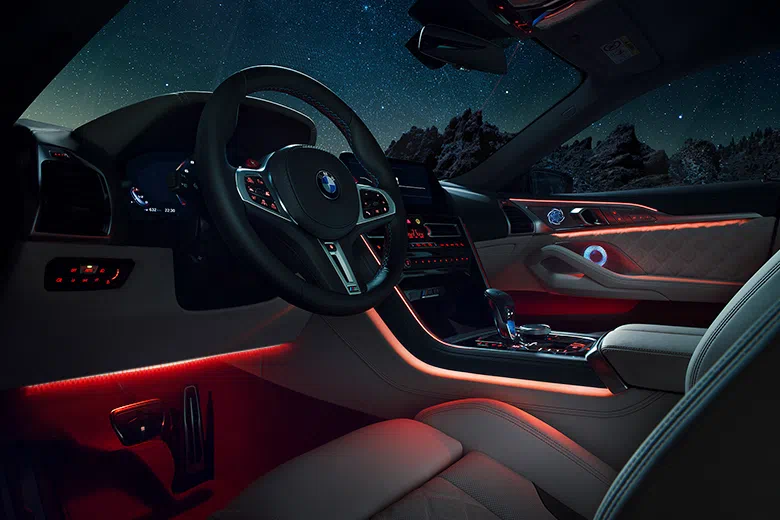 Using this daytime running light can increase the visibility while driving, let you see the road conditions ahead more clearly, and make others clearly notice your car, reducing and preventing accidents such as collisions between vehicles. At the same time, it also has a turn signal function, which can clearly show your turning intention.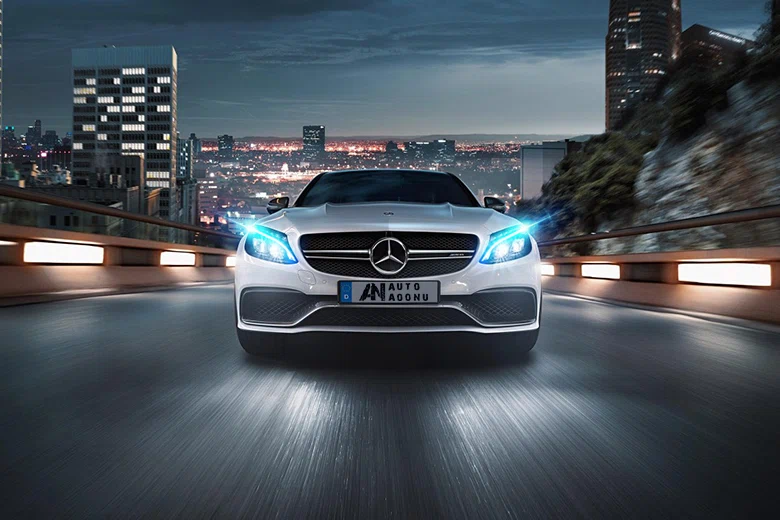 This tailgate light bars have a variety of uses, can display driving lights, turn signal lights and brake lights to remind other drivers in a more conspicuous way. At the same time, it has 3M double-sided adhesive tape, plug and play, quick and easy installation, and will not damage the car itself.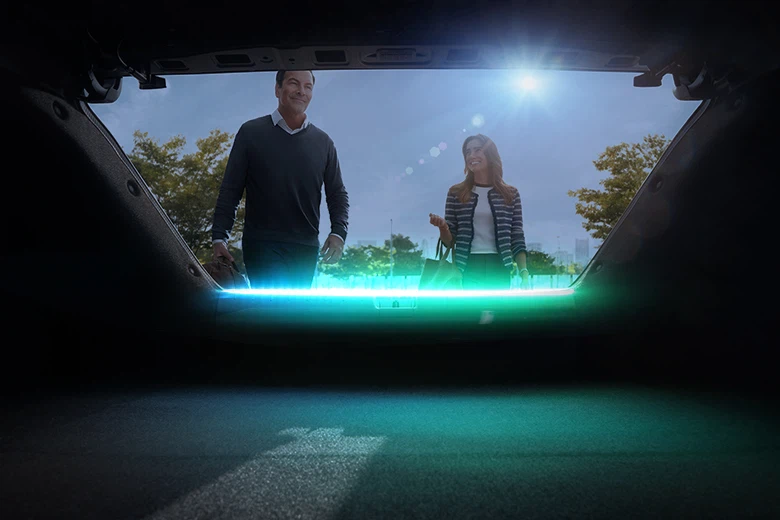 The third brake light is higher than the side brake light and is located directly in the driver's line of sight, helping to improve the driver's safety and avoid rear-end collisions. Every time you step on the brake pedal, the light will light up to let other drivers know that you are about to slow down or stop.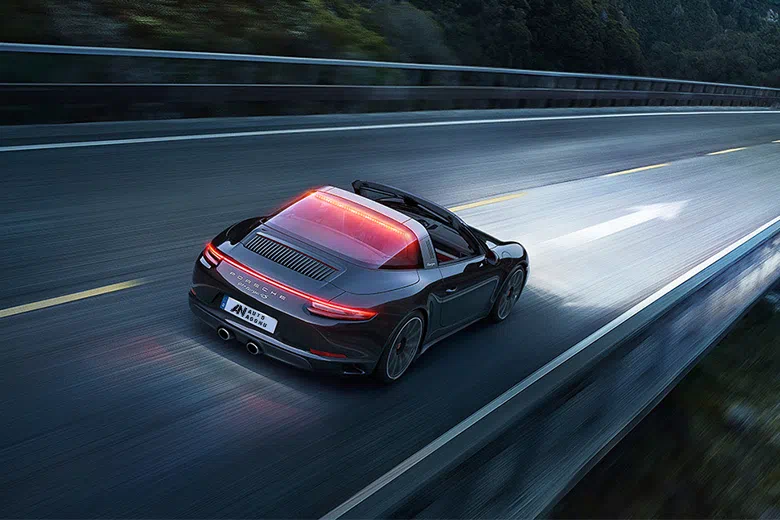 This Fiat LED coasters with customizable patterns is made of wear-resistant scratch-resistant acrylic sheet, which is resistant to high temperature and corrosion. You can safely put the cup on the coaster. It can make your car look very beautiful, the light is soft, it will not affect your vision during driving, and it can give you enough light in the dark area to help you easily pick up the water glass and surrounding things.
This Fiat LED aromatherapy diffuser can increase the ambience in your car, and the good smell will make you feel comfortable and pleasant while driving. It has 7 scents and a variety of light colors to choose, it is easy to install and use, and will not harm your car itself.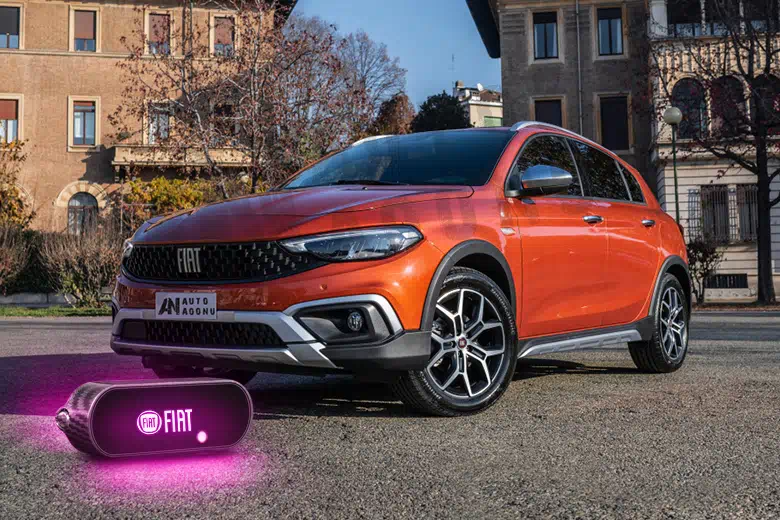 This is an easy-to-install LED whip light. Each LED whip Light is made of high-quality flexible polycarbonate hose. It has two remote control schemes, you can choose radio frequency remote control or dual control with mobile app Bluetooth remote control. There are variety of lighting colors and several brightness levels can be adjusted.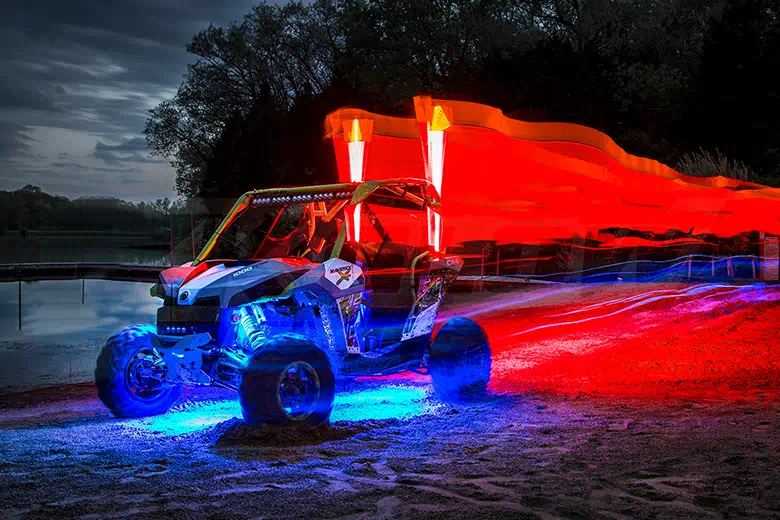 If you want to effectively remove the peculiar smell of the car, this aromatherapy box is your best choice. The fragrance of the balm is long-lasting and stable, fresh and pleasant. The fragrance stays in the air for a long time and can effectively remove peculiar smell. Let you be in a relaxed and happy environment, not to be disturbed by peculiar smells. We also provide special customized services, if you have any needs in this regard, please feel free to contact us.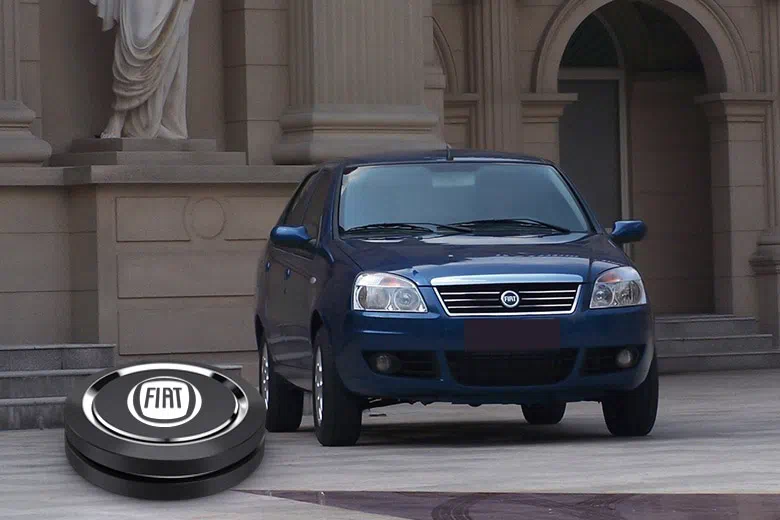 Flat is a well-known Italian automobile manufacturing company, one of the world's top ten automobile companies, and the world's first automobile manufacturer to produce mini-cars. In addition to the well-known body design of the Fiat car, its driving pleasure is even more popular among experts. Its Ponto convertible will never disappoint.
Fiat's first model was a 4-horsepower model that came out in 1899, named after its 4.2-horsepower twin-cylinder engine. A year later, 6 horsepower was introduced, and another 8 horsepower was introduced in 1901. In the 1920s, Fiat 520 became its luxury model, equipped with V12 engine, can be used as a convertible and two-door sports car. Throughout the 1930s, Fiat's lineup featured luxurious and economic models (especially the 2800). The Second World War suspended most of the company's automotive business for a while, but it grew again in the 1950s. It was during this decade that the economical 500 model debuted together with the stylish 1200 Spyder, and the Spyder is another more well-known model of the brand.
Fiat 124 Spider has taken additional noise reduction measures, using higher-quality materials, a more powerful turbine engine and a slightly larger trunk space, so indoor noise has been gratifyingly reduced. Because Fiat is lightweight and powered by a micro engine, it is very fuel efficient. This is a very good small convertible sports car.
Fiat Punto is an ultra-mini car produced from 1993 to 2018, spanning three generations. The third-generation car was sold under the name of Grande Punto from 2005 to 2009, and was renamed Punto Evo under the one-word name of Punto from 2009 to 2012.The Grande Punto, code-named 199, was unveiled at the 2005 Frankfurt Motor Show. Although the model shares its name with the previous Punto, many of its components are new, including a new chassis and body shell.
The Abarth 500 was unveiled at the 78th Geneva Motor Show a year after the Abarth brand and the company was reborn. It includes a five-speed C510 gearbox, low-speed suspension, electric power steering with sports settings, and internal turbo pressure gauges and gear indicators, Aluminum pedals, Blue & Me entertainment system with telemetry and GPS. The Abarth version of the 500C (convertible) was unveiled at the 2010 Geneva Motor Show, and it can accelerate from 0-100 km/h (0-62 mph) in 8.1 seconds. In 2016, Fiat 500 and Fiat 500C were refurbished, including redesigned grille and remodeled headlights with daytime running lights with LED technology, modified 15-inch and 16-inch alloy wheels, new Paint colors, chrome-plated rear bumper strips with fog lights and rear taillights all come with integrated LED. The interior trim has modified the controls and redesigned the steering wheel to give the driver a more comfortable driving experience.
If you own a Fiat model, you can definitely be proud of your vehicle. On AOONUAUTO, we provide you with high-quality Fiat accessories, you can customize according to your own needs, and we will provide you with professional customized services. You can also find a variety of high-quality accessories on our website. We cover various styles of accessories, and there is always one that belongs to your favorite style. If you want to learn more about parts or accessories, our customer service department is always ready to answer any questions you may encounter.
Model reference:
X 1/9 (128), UNO CARGO, UNO Box (267), UNO Box (146), UNO (195), UNO (146), ULYSSE (220), ULYSSE (179), TORO (226), TIPO Sedan (356), TIPO Hatchback (356), TIPO Estate (356), TIPO (160), TEMPRA S.W. (159), TEMPRA (159), STRADA Pickup (278), STRADA Pickup (178), STRADA Pickup, STILO VAN (192), STILO Multi Wagon (192), STILO (192), SIENA / GRAND SIENA (372, 197), SIENA (178, 172), SIENA (172), SEICENTO / 600 Van (287), SEICENTO / 600 (187), SEDICI (FY), RITMO II (138A), RITMO Convertible (138), RITMO (138), REGATA Weekend (138), REGATA (138), QUBO (225), PUNTO Van (199), PUNTO Van (188), PUNTO Van (176), PUNTO EVO Van (199), PUNTO EVO Van, PUNTO EVO (199), PUNTO Convertible (176), PUNTO (199), PUNTO (188), PUNTO (176), PREMIO, PANDA (312, 319), PANDA (169), PANDA (141), PALIO Weekend (373), PALIO Weekend (178), PALIO FIRE, PALIO (26, 27, 28), PALIO (178), MULTIPLA (186), MOBI (341), MILLE, MAREA Weekend (185), MAREA (185), LINEA (323, 110), JAGST (770), IDEA (350), GRANDE PUNTO (199), FULLBACK Pickup (502, 503), FREEMONT (345), FIORINO Pick up (147), FIORINO Pick up (146), FIORINO Box Body / Estate (225), FIORINO Box (146), FIORINO Box, ELBA (146), DUNA Weekend (146), DUNA Sedan, DUNA (146), DINO Spider, DINO Coupe, CRONOS (359), CROMA Box (194), CROMA (194), CROMA (154), COUPE (175), CINQUECENTO (170), CAMPAGNOLA, BRAVO Van (198), BRAVO II (198), BRAVO I (182), BRAVA (182), BARCHETTA (183), AVVENTURA (199), ARGO (358), ARGENTA (132), 850 Spider, 850 Coupe (100), 800 Serie, 700 Serie, 66 Serie, 600 Serie, 500X (334), 500L (351, 352), 500 Serie, 500 Estate, 500 C Giardiniera, 500 C Berlina, 500 C (312), 500 B Giardiniera, 500 A / B Berlina, 500 (312), 1900 Coupe, 1500-2300, 1500 Convertible, 1400 Convertible (101), 135 DINO Spider (135), 135 DINO Coupe (135), 132 (132), 131 Familiare/Panorama (131), 131 (131), 130 Coupe, 130 (130), 128 Familiare (128), 128 Coupe (128), 128 (128), 127 Panorama (127), 127 (127), 126 (126), 125 (125), 124 Spider (348), 124 Spider (124), 124 Familiare (124), 124 Coupe (124), 124 (124), 1000er-Serie, 1000 Serie, 850, 600, 500, 147