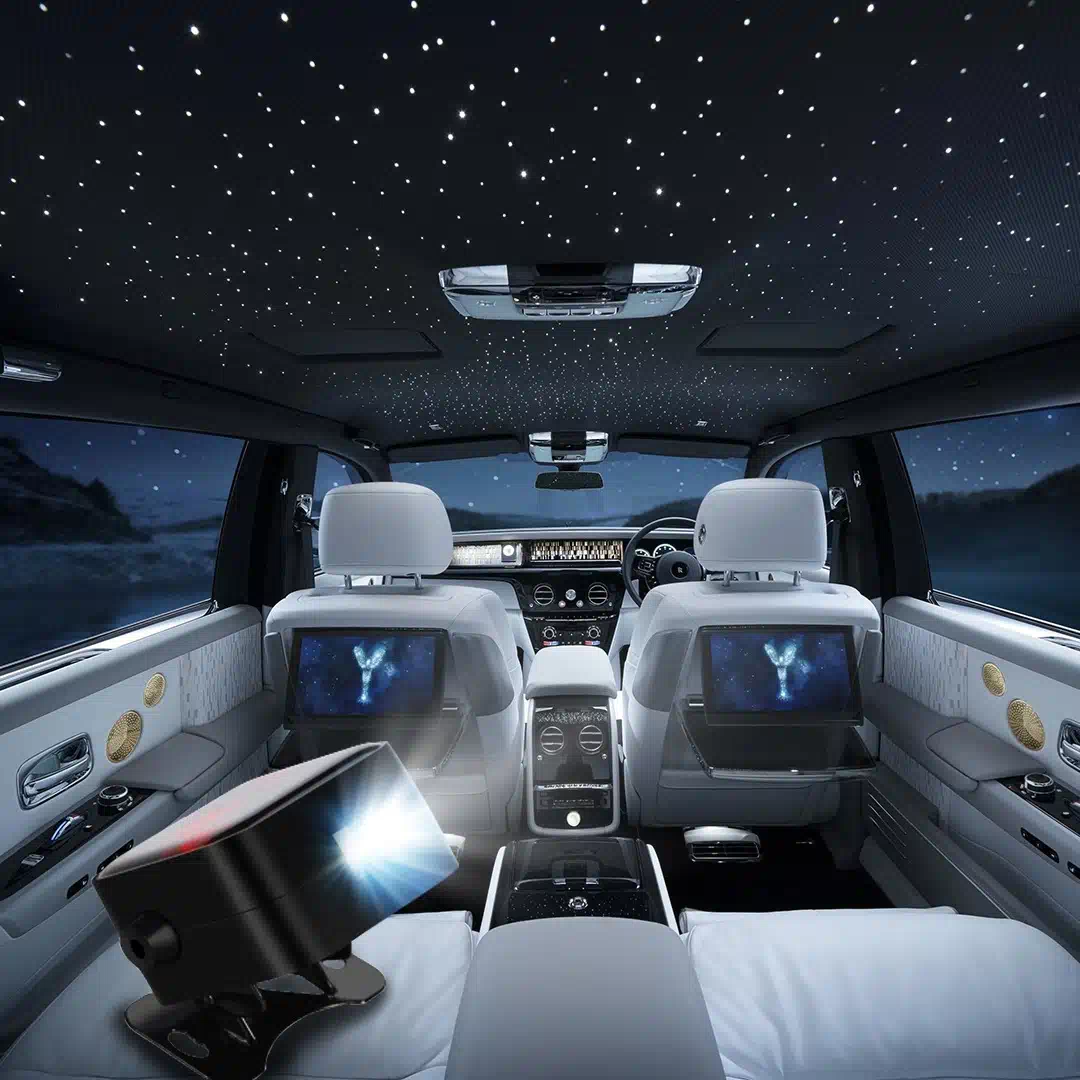 Product Description:   
Specification:
Product Name: Atmosphere Lamp Interior Ambient Starry Sky
Product life: about 10,000h
Product size: 28mm*30mm*40mm
Product weight: about 104g
Lighting color: Red
Laser power: red 100mw
Laser wavelength: red 650nm
Laser safety grade: CLASS II B
Working temperature: -20 degree to 70degree
Working Voltage: 5V
Waterproof grade: IPX4
Connection: USB socket
Installation place: The armrest box location
Including Package:
Single lighting mode:
1 X Atmosphere Lamp Interior Ambient Starry Sky
1 X Screen cleaning paper
1 X Installation instruction
1 X Screwdriver
2 X 3M tape
Features:
Beautiful Lighting Effects with remote control: This light is used to create a beautiful and charming interior atmosphere of the car. If you want to surprise people you loved, don't miss it. The remote control also helps you switch and adjust the working mode of the product at any time.
Uniqueness: Make your trip Cool with lighting atmosphere, ambient is suitable for gathering with family and friends, let the car interior more gorgeous and romantic. Enjoy your drive with more happiness.
Suitable for: Fit in all varieties of cars, SUV, vans, trucks, also can use in many scenes such as home, shop, and offices, etc.

Installation Process:
1. Tear the 3M glue and stick it to the bottom of the bracket.
2. Fix the main engine in the position of the handrail box, and adjust the direction of illumination.
3. The power cord is directly inserted into the USB socket.
4. Installation is completed.
Please focus:
Place it on the armrest box, adjust it to the right angle, and connect it directly to the power supply through the USB port. And then you can enjoy this unique and pretty starry sky view.
NOTE:
Don't shine your eyes when you adjust the position of the star light.




2. Single mode product without remote control, Multi-mode product has a remote control.

Multiple lighting modes:
1 X Atmosphere Lamp Interior Ambient Starry Sky
1 X Screen cleaning paper
1 X Adhesion Promoter
1 X Remote control
1 X Screwdriver
1 X Installation instruction
2 X 3M tape
Modes:
Lighting color: Red
Single lighting mode (Non-remote control): Stable starry lighting mode
Multiple lighting modes:
Breathing mode
Flash mode
Music mode (Flashing with the rhythm of music's)
After Sales Services: 
 AoonuAuto

is now focusing on more car lighting accessories and devote to providing the unique experience of car traveling.

We just customize more car accessories for your vehicle to make it more attractive.

Your satisfaction is our utmost concern.

If you find any problem, contact us, our customer service team will give valuable service to you.