This LED door sill is made of Japanese acrylic material, high-quality products can be purchased with confidence. It can decorate your car and add an elegant appearance. It can also protect your car's sill from friction and improve the safety factor of people getting off the car. The pattern style on the door sill pedal can be customized. We believe your friends, family and children will praise you for installing this kind of LED door sill.
This LED door sill is waterproof, wear-resistant and corrosion-resistant, and can provide good lighting for your car. It has 7 light colors to choose, and it does not have any pollution and radiation, which can help you get on and off the car easily. You can customize the LOGO, and we will provide professional customization services. When you and your passengers open the door and see your LOGO lit up, it will be a pleasant thing.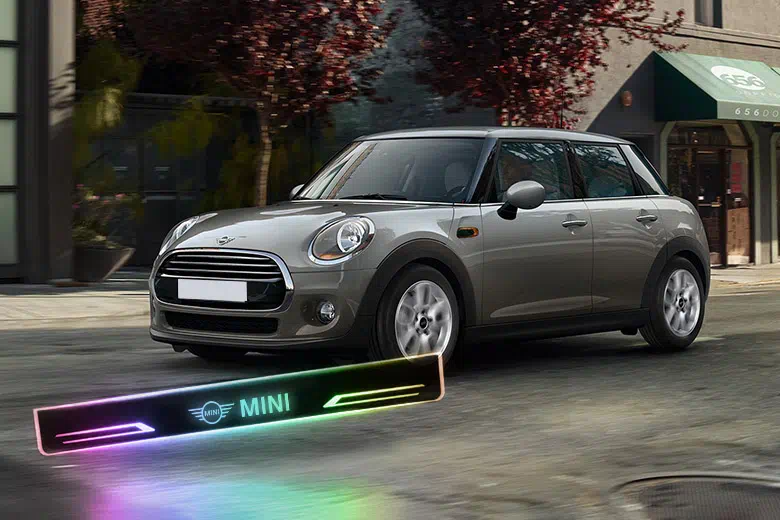 If you are a car modification enthusiast, then you can take a look at this LED door LOGO projector, it will not destroy the original appearance of the car, but will bring more superiority and driving pleasure to the driver. It can make your car look different, and it can also provide lighting. The projected pattern also provides customized service, as long as your picture is high-definition, AoonuAuto can customize it for you!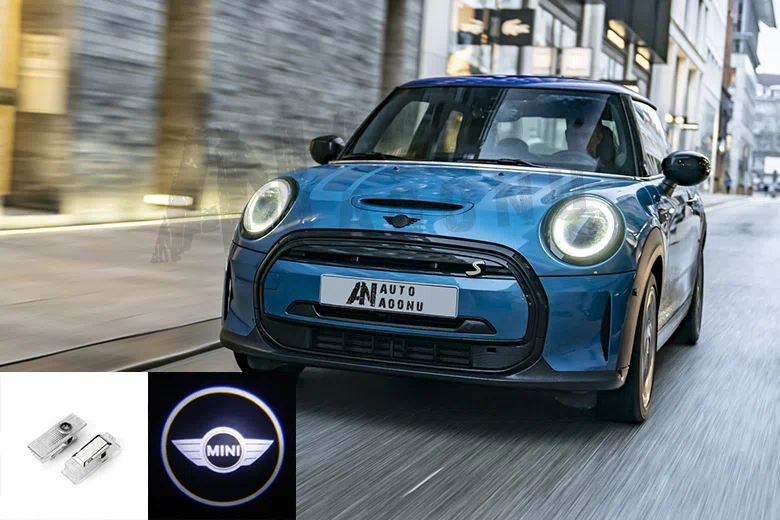 This LED door handle bowl light is made of Japanese acrylic and high-quality LED, which is durable and has a long service life. The LOGO on the LED door bowl cover trim can be customized. Because the light transmittance of acrylic is extremely high, when the light is on, this door bowl trim is quite beautiful. Add a touch of brilliance to the monotonous car interior.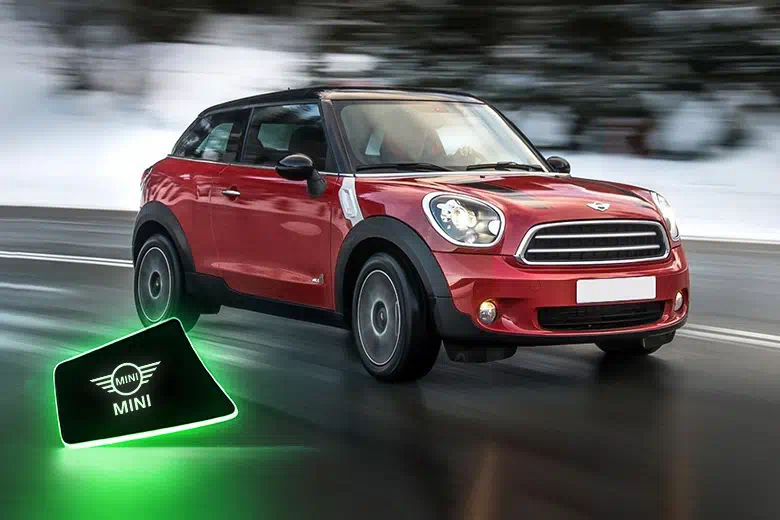 This is a gorgeous and cool LED floor mat. You can customize your exclusive logo on it. The color of the light can be switched remotely, and there is a sound sensor mode, that is, the light flashes with the rhythm of the music. Not only does it make your car look more upscale, but it also provides additional lighting to make passengers more relaxed.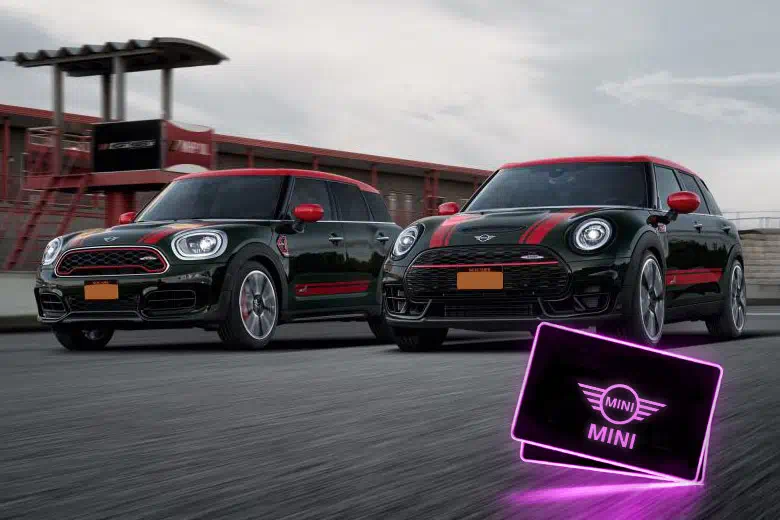 This LED underbody light is waterproof, durable, and very thin. It can be easily installed in the gap and is almost invisible. It has 8 light colors and multiple modes, you can switch freely according to your preferences. When driving on the road, it makes your car look more upscale.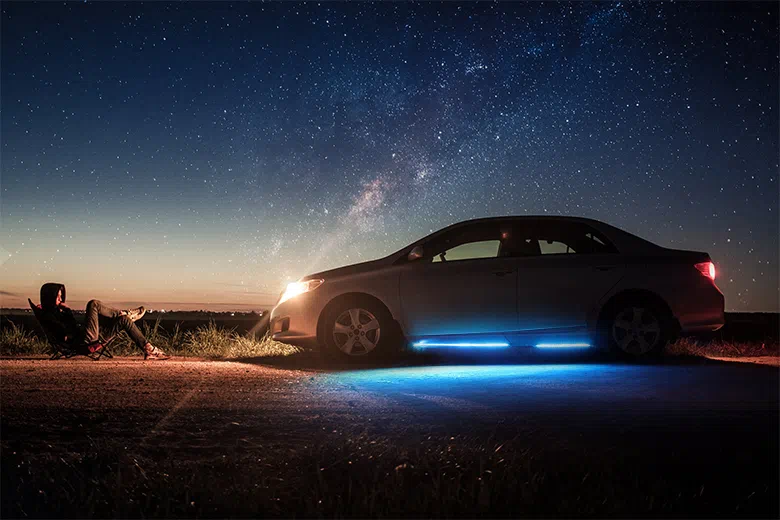 The stylish interior lights break the dullness of life. When the light is projected in the car, it not only provides you with illumination, but also looks particularly gorgeous, making you feel happy and eliminating driving fatigue.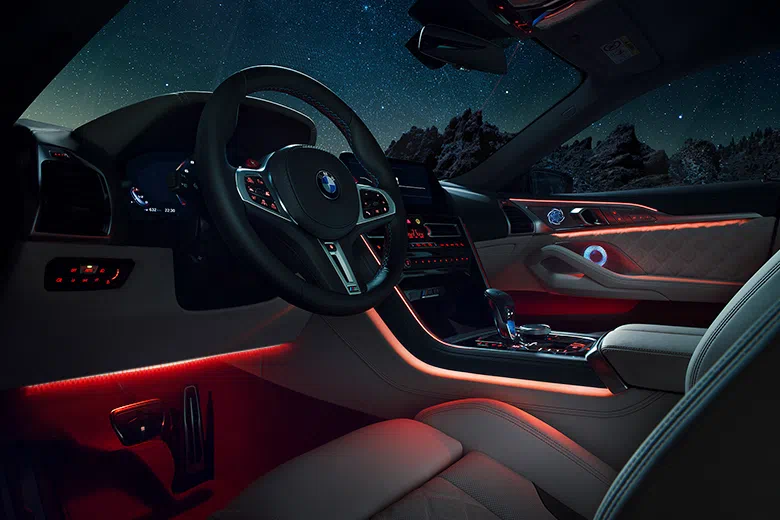 This product makes your car look very high-end. It not only improves the safety factor, but also you can use the RF remote control to freely switch the colors and modes you like. It is easy to install, with 3M adhesive tape on the back, which can be cut according to the size and length you need.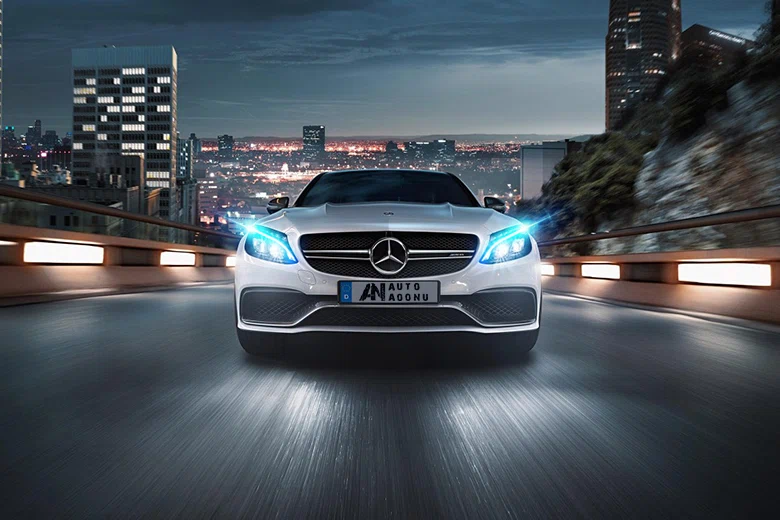 This tailgate light bars can not only bring you safety, reduce and prevent rear-end collision accidents, but also add fashionable and cool elements to your car. Tailgate light bars are composed of many super bright LED lights. It has a long service life, durable, no pollution, low energy consumption.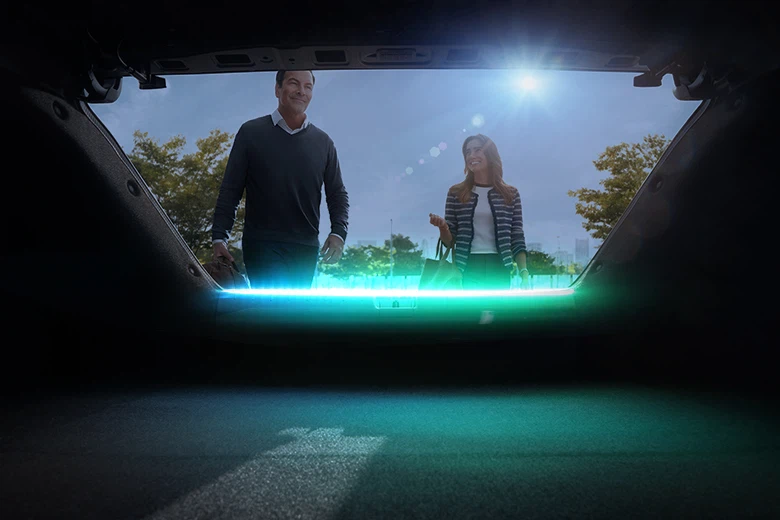 Using this third brake light, when you brake, it can emit a brighter red light than an incandescent lamp, which better protects your safety. It is waterproof, pollution-free and durable. The installation is simple and will not damage your car.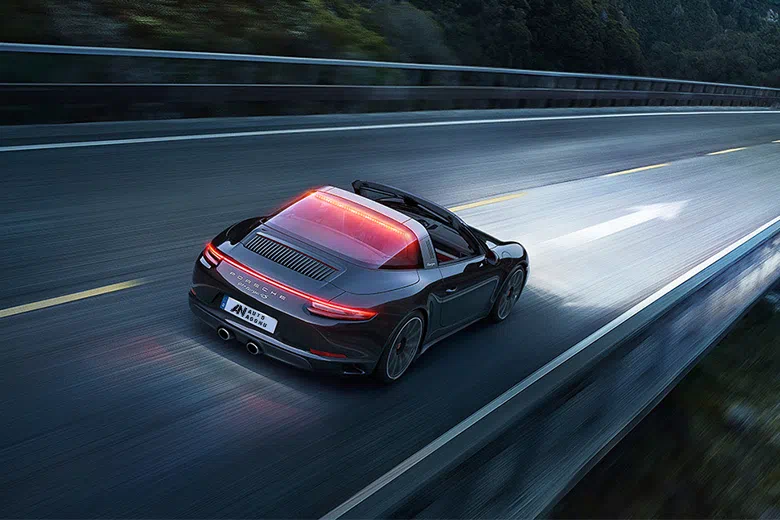 LED cup coasters are made of acrylic, they are dust-proof with waterproof surface that ensures holing cup safe, and the smooth surface is easy to use for a long time. The product is charged by a USB cable, and its interface is Micro USB. With 7 colors and 3 modes, you can choose according to your preferences. The pattern on the coaster can be customized for more personalization.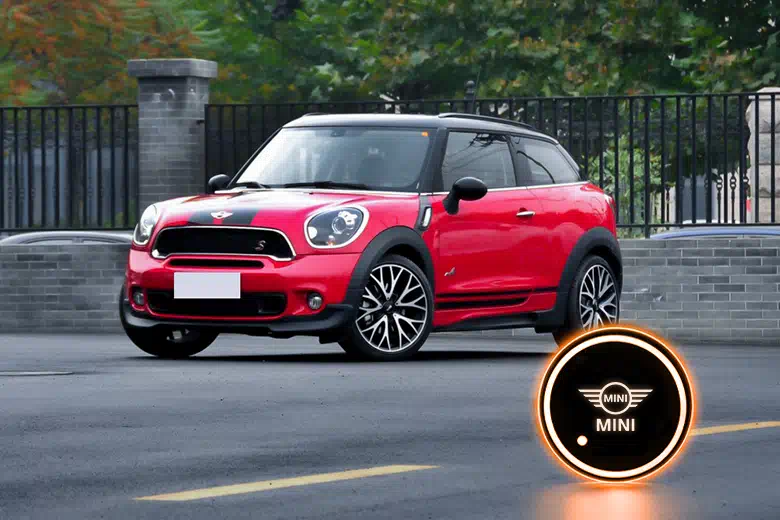 This LED aromatherapy diffuser has a compact and simple appearance, with 7 fragrances to choose, and it is very easy to install and use. Not only can it emit a good smell, but its soft light can provide illumination. It can eliminate fatigue for your driving well.
The dazzling led flagpole light can make you more conspicuous in the wilderness. It can not only illuminate the surrounding environment, but also prevent other drivers from ignoring you due to blind corners.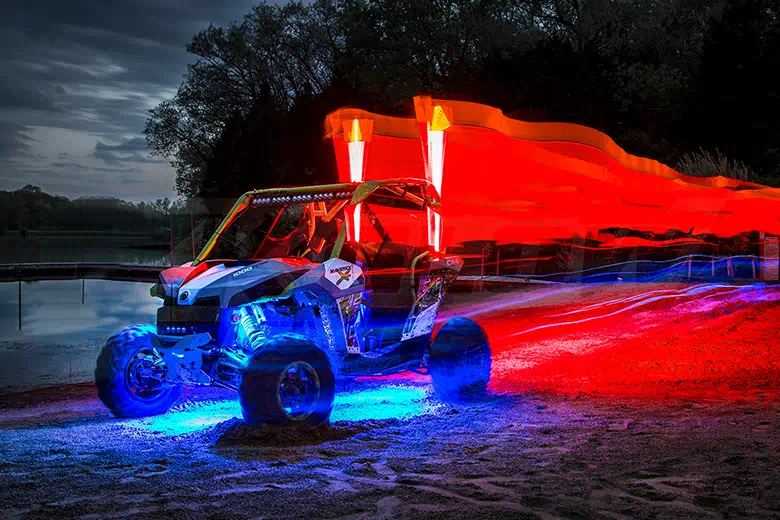 These stylish and concise aromatherapy boxes are not to be missed. They have a variety of scents to choose from, and each scent is fresh and pleasant. It looks particularly high-end when placed in a car or office. It can also help you get rid of odors. Make you feel comfortable. If you need customized services, you can contact our customer service.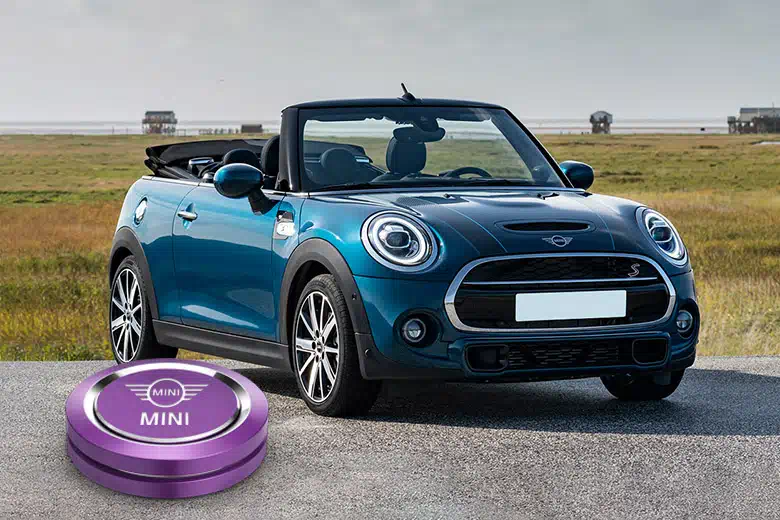 Mini is a car brand owned by BMW after it was launched by the British Motor Company. The car brand is a small hatchback that is popular all over the world and full of personality. It was launched by the British Motor Company (BMC) on August 26, 1959. In more than half a century of history, Mini has achieved great success. Production of the old Mini ceased in 2000. BMW, the new owner of the Mini brand, announced the launch of the successor model of Mini and designated the new car's brand as MINI (all capital letters).
In 1952, Morris Motor Company and Austin Motor Company merged to form British Motor Corporation (BMC). Because of the Second Middle East War (Suez Canal Crisis) that broke out in 1956, Britain's gasoline was tight. President Leonard Lord asked Sir Alec Issigonis to design a smallest car that could easily carry 4 adults and some luggage items. The first Mini was launched in 1959, which was then called Morris Mini-Minor. The first is to cleverly arrange the positions of the gearbox and the horizontal engine, and use front-wheel drive. In this way, the space is used reasonably and the size of the car body is reduced. The second is to use the smallest 10-inch wheels and a four-wheel independent suspension system with rubber materials to reduce the volume of components. The Morris Mini-Minor at that time used the same A series engine as the Morris Minor and Austin A37 models, with a displacement of 850cc and a maximum horsepower of 34 horsepower. Later, the car model developed into a brand with a number of small cars, including Mini Clubman, Mini Moke, Mini Van, Mini Traveler, Mini Countryman, Mini Cabriolet… etc.
Development of a modern successor to the Mini began in 1995 and an entirely new Mini model was launched in 2001 by BMW. All Mini models since 2001 have different variants, including One (entry-level), Cooper, Cooper S (sporty), and John Cooper Works (JCW) (high-end). The hatchback/hardtop Mini was the first model of the new generation Mini, introduced in 2001, and was back then known as simply Mini. It was available in Cooper, Cooper S and One variations at launch. The current Mini range includes the Hardtop/Hatch/Convertible (three-door hatchback), Clubman, Countryman (five-door crossover), Coupe/Roadster and Paceman (three-door crossover based on the Countryman).
The Mini Clubman is an estate Mini, introduced for the 2008 model year and available in One, Cooper, Cooper S, and Cooper D variations. The roof line of the MINI Clubman car extended through all three pillars and blended smoothly into the exterior. The MINI Clubman is a five-door car and the rear seats can be fully folded. Under normal conditions, the luggage compartment of the MINI Clubman has a volume of 260 liters, and when the rear seats are folded up, the storage space can reach 930 liters. The MINI Clubman has a high-power, high-torque 1.6-liter 4-cylinder engine, equipped with a 6-speed automatic transmission as standard. It only takes 10.9 seconds to accelerate from 0-100 km/h, and the average fuel consumption is only 6.8 liters/100 km. The CO2 emissions are only 163 g/km.
The Mini Countryman was announced in January 2010, and formally launched at the 2010 Geneva Motor Show. It is the first Mini crossover SUV, and the first five-door model to be launched in the BMW-era. It is offered with a choice of two- or four-wheel drive (known as ALL4), and with 1.6 L petrol or diesel and 2.0 L diesel four-cylinder engines in various states of tune. The Countryman has a longer wheelbase, more interior room, and higher ground clearance than the Clubman. It uses the same engines as the Hatch/Clubman range, but with an optional all-wheel-drive powertrain (dubbed "ALL4") to allow minimal off-road and rugged terrain driving. A six-speed manual transmission is standard on all models, with automatic transmission available on all petrol and diesel models except the 90 bhp One D.
Mini perfectly combines exquisite, retro-style, economic efficiency, and a touch of sportiness. It is necessary to choose top-quality Mini accessories and parts when upgrading it. AOONUAUTO provide all kinds of automobile accessories for you to choose from, with no worries about quality.
Model reference:
MINI (F55), MINI (F56), MINI (R50, R53), MINI (R56), MINI CLUBMAN (F54), MINI CLUBMAN (R55), MINI CLUBVAN (R55), MINI Convertible (F57), MINI Convertible (R52), MINI Convertible (R57), MINI COUNTRYMAN (F60), MINI COUNTRYMAN (R60), MINI Coupe (R58), MINI PACEMAN (R61), MINI R50 3-door hatchback, MINI R53 3-door hatchback, MINI R56 3-door hatchback, MINI R57 2-door convertible, MINI Roadster (R59), MINI-MOKE