This Customizable LED door sill is suitable for the front door and rear door of a car. When you get on and off the car, you can see the door sill light up with cool colored LED lights and display the name and LOGO of the car. When you open the door, you can feel joy and it is convenient to get on and off the car. At the same time, it is strong and easy to clean without any pollution.
This LED door sill is waterproof, wear-resistant and corrosion-resistant, and can provide good lighting for your car. It has 7 light colors to choose, and it does not have any pollution and radiation, which can help you get on and off the car easily. You can customize the LOGO, and we will provide professional customization services. When you and your passengers open the door and see your LOGO lit up, it will be a pleasant thing.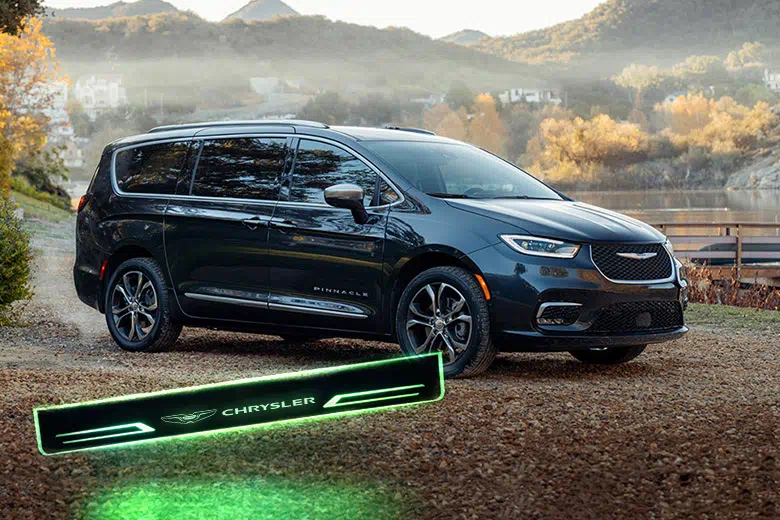 When you use this LED door sign projector, whether you are uber, lyft, taxi driver or professional driver, imagine the moment when your guest or passenger open the door. It must be pleasantly surprised and smiling. Wireless door light requires very low energy while offers high definition and bright lighting.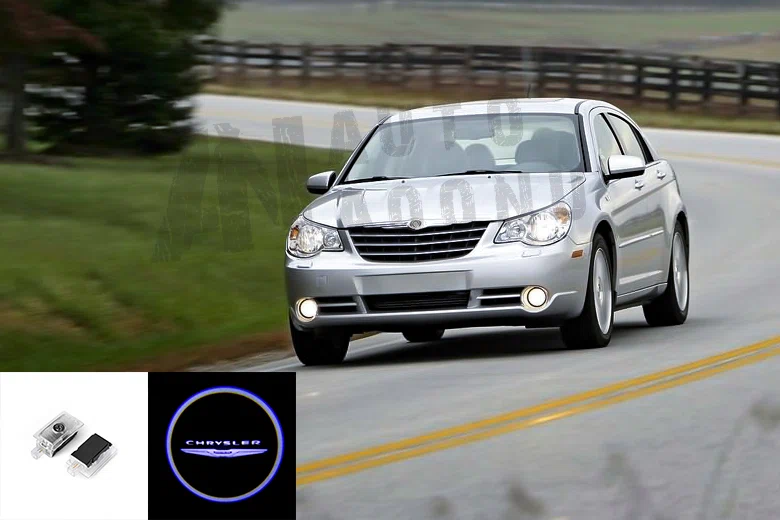 This LED door handle bowl light is made of Japanese acrylic and high-quality LED, which is durable and has a long service life. The LOGO on the LED door bowl cover trim can be customized. Because the light transmittance of acrylic is extremely high, when the light is on, this door bowl trim is quite beautiful. Add a touch of brilliance to the monotonous car interior.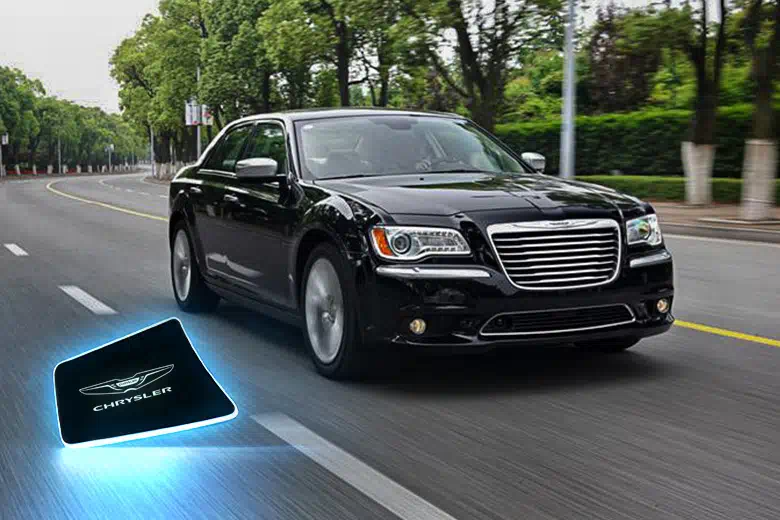 This LED floor mats is made of Japanese acrylic material, which is wear-resistant. It can be customized the LOGO. Various light colors can be adjusted by remote control. When this floor mat light up, it will make the atmosphere in the car more romantic and comfortable, and the journey more enjoyable.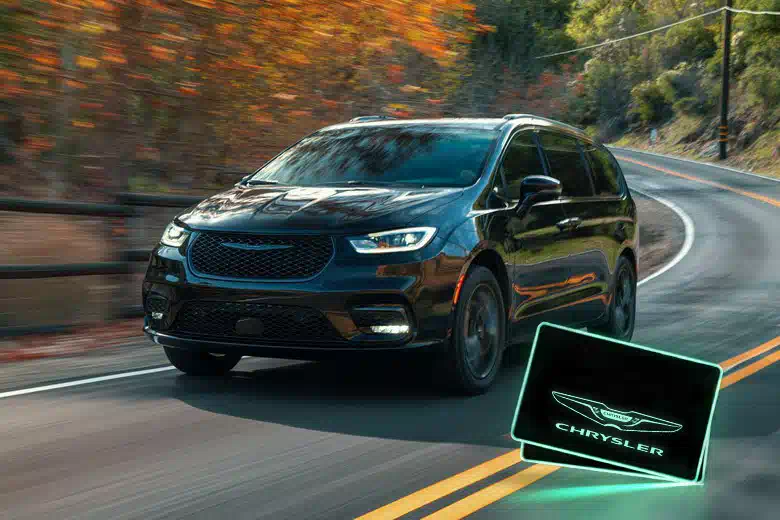 This LED underbody light is waterproof, durable, and very thin. It can be easily installed in the gap and is almost invisible. It has 8 light colors and multiple modes, you can switch freely according to your preferences. When driving on the road, it makes your car look more upscale.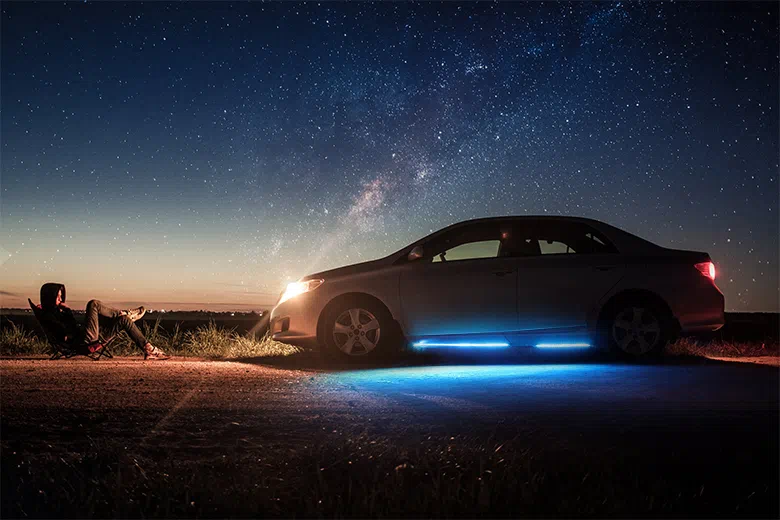 There are a variety of interior mood lights to choose from. Light soft solid color ambient light or bright starry sky light. They are multiple colors of lights and multiple modes to choose from. The light is soft, there is no radiation, it can provide lighting for the car, and it looks very beautiful.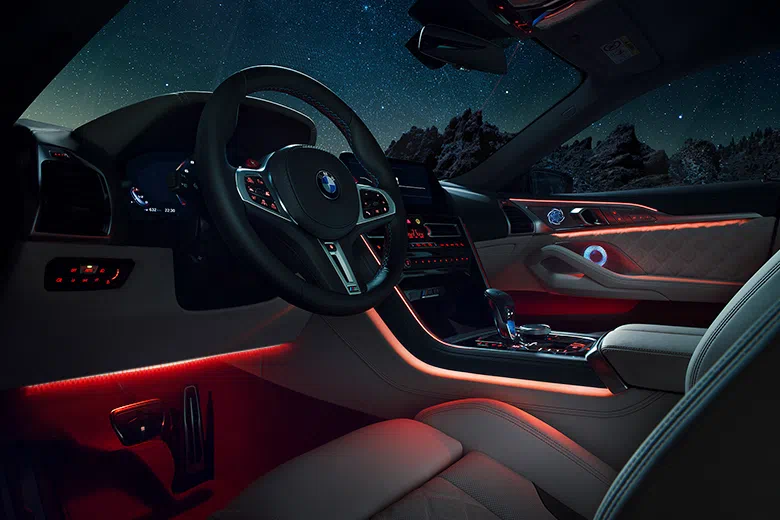 This daytime running light has a cool appearance and is available in a variety of colors. The RF remote control can be used to select and switch modes, which is very convenient to use. When providing additional custom lighting, a turn signal function is also provided. At the same time, the installation is also very simple, and it can be installed without breaking the original power.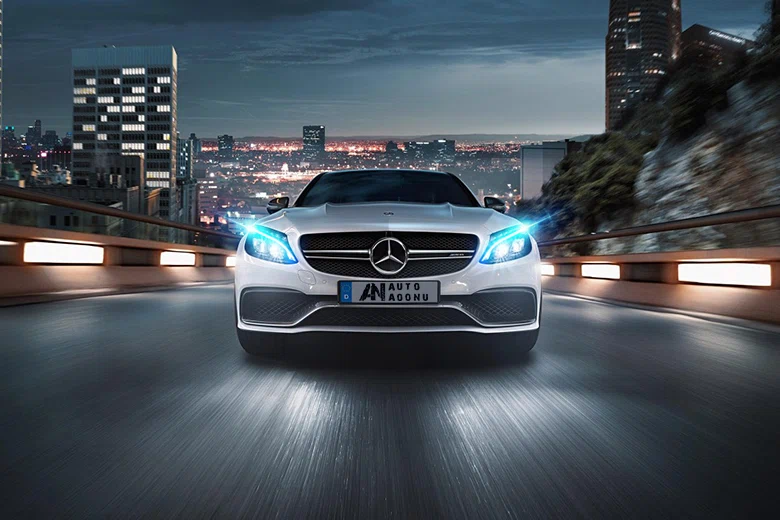 The colorful streamer tailgate light strip allows the driver behind your car to see your clearly. Installing this light bar can not only have a cool car appearance, but also improve driving safety and reduce the occurrence of car rear-end accidents.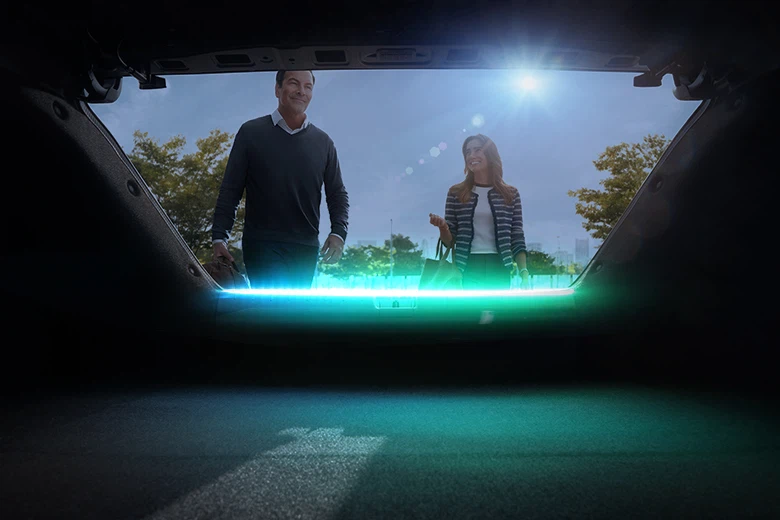 Using this third brake light, when you brake, it can emit a brighter red light than an incandescent lamp, which better protects your safety. It is waterproof, pollution-free and durable. The installation is simple and will not damage your car.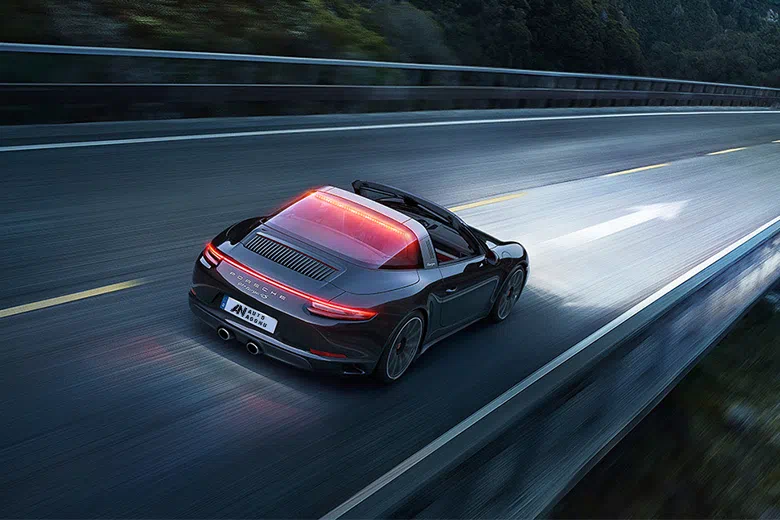 If you want to add a cute and cool decoration to your car interior, then you can take a look at this LED cup coasters. It has 7 colors and 3 modes for you to choose. When you put a drink or water bottle on it, it looks very beautiful. It is waterproof, can work continuously for 15 days, and is very simple to install and use. We also provide customized services, you can custom the LOGO you want on the coaster.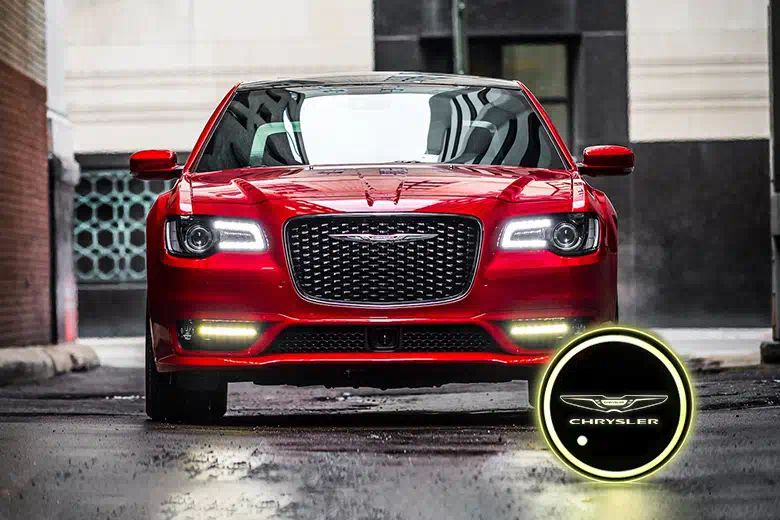 This LED aromatherapy diffuser has a long-lasting fragrance that can keep you away from unpleasant smells and keep you in a relaxed and happy mood. Its soft lighting looks very nice at night. It can create a relaxing and comfortable atmosphere for you and eliminate driving fatigue.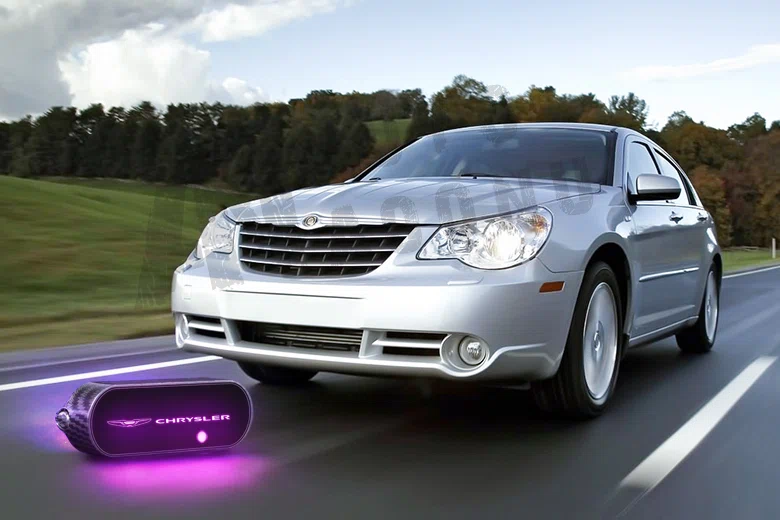 This LED whip lights is waterproof, shockproof and almost indestructible. It is easy to install and add creative lighting to the vehicle or as a warning sign. IP67 waterproof rating, excellent heat dissipation and sturdy LED, the service life exceeds 50, 000h. it has variety of lighting colors and several brightness levels.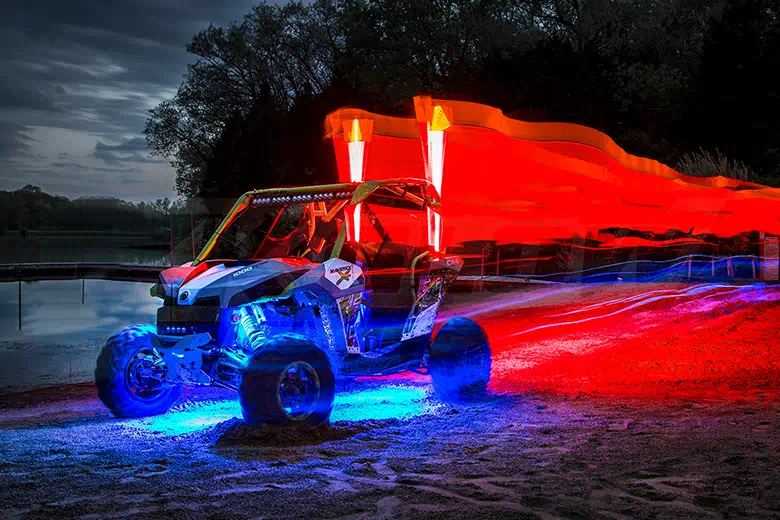 If you want a fresh and pleasant environment inside your car, you can take a look at these aromatherapy boxes. They have a variety of scented balsams to choose from. Every scent does not smell bad, it is very mild and fresh. Its appearance is also very small and exquisite, does not take up space, and looks very high-end. It is also convenient to use.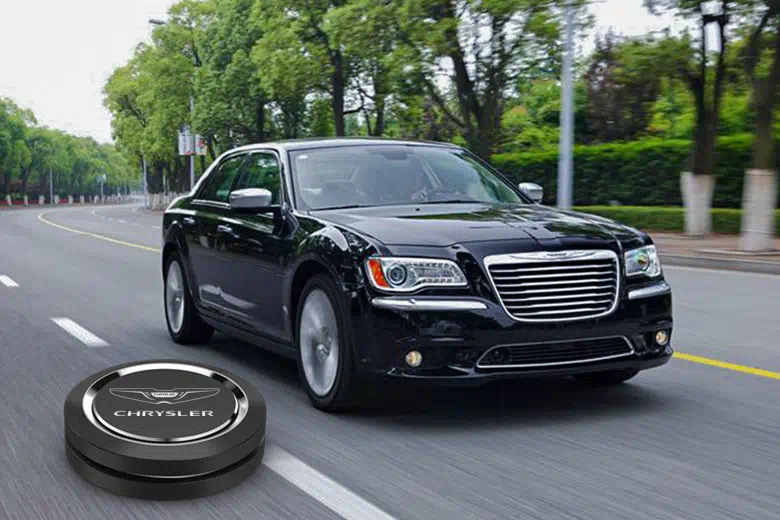 Chrysler Corporation was founded in 1925 and is a famous American automobile manufacturers. The founder of the company is Walter Chrysler. His father was a locomotive engineer for the Kansas Pacific Railroad (later the Federal Pacific Railroad), and he inherited his interest in machinery from his father. At the age of 18, he designed a small steam locomotive with complete pneumatic brakes that operate on its own power. The opportunity for Walter Chrysler to enter the automotive industry was to serve as the factory director of Buick. He solved the problems of Buick axles by changing the manufacturing process from cold rolling to hot processing. In addition, cars with steel bodies have been developed to replace wooden bodies. Later, Chrysler became the president of Buick. Later, he was hired by Maxwell, and in 1924 launched the famous model Chrysler No. 6. Another distinguishing feature of Chrysler sedan is its braking system: Lockheed four-wheel hydraulic brakes are equipped for the first time on ordinary value cars produced in the United States. The braking system balances the distribution of braking force, enabling the driver to achieve a relatively high speed while maintaining absolute control of the vehicle. As the test market was on the right track and the company developed rapidly, Chrysler saw the opportunity to completely reorganize Maxwell and renamed it Chrysler Corporation in 1925.
In 1925, a Chrysler sedan was put into production in LeMans, France. Chrysler's Imperial series sedan was also introduced to the market in 1926 as a luxury model. In the same year, Chrysler first adopted a closed rubber structure as the engine suspension method to reduce vibration. In 1927, Chrysler provided four model series: "50 series", "60 series", "70 series" and "Imperial 80", becoming the fourth largest automobile manufacturer in the United States. Chrysler launched his first color advertising campaign, which focused on promoting the Imperial 80 sedan.
Chrysler focused on technological innovation, an obvious result is reflected in the new model Airflow launched in 1934. The car's streamlined shape, ride comfort and frame structure push the car design to a new future. Compared with the previous model, its body structure is lighter and has more torque control devices. Since one-third of the mass of the Airflow engine is allocated in front of the front axle of the car, the car has better weight distribution and safer handling performance.
Chrysler began producing Valiant, Road Runner and other high-power cars in the 1960s, and it also brought a technical highlight-the overall body. The overall car body has some problems, such as the outer shell is easily damaged by corrosion for a long time. Chrysler's solution is to cover it with a coating that provides strong protection. Chrysler engineers also developed mathematical solutions to solve the problem of stress distribution in the car body. In the field of automotive safety, Chrysler is the first to provide a shoulder strap restraint system for seat belts. Chrysler engineers created an air filter assembly, an emission control system to improve engine performance. In 1975, the release and sales of Chrysler Cordoba were successful, and the model was advertised as "the new small Chrysler" to attract consumers.
In 1955, Chrysler launched the C-300, ushering in the era of high-performance cars. In 1983, Chrysler developed the Minivan series, which created this market segment and promoted the rapid development of this type of car. The Chrysler Imperial, launched in 1993, once again stood at the forefront of the automotive industry, and the introduction of forward-protruding design fundamentally changed the layout of the interior of the car. The windshield tilts forward to push the hood outward, and the wheels are closer to the ends of the car. The 2001 Chrysler PT Cruiser that appeared at the North American International Auto Show in 1999 showed a brand new concept. Bringing the car into a new era of romantic cars, it fully embodies the perfect combination of retro nostalgia and modern technology.
Because Chrysler designed and launched new models in good time that conform to the trend of the times, it enjoyes a higher prestige than other cars and shows more courage than its competitors. It is hailed as the design leader of the American automobile manufacturing industry. Secondly, Chrysler's unique design concept makes it form a unique style of expression. The perfect combination of retro and modern, and the expressive and tense design make each Chrysler car not only represents a way of life, but also represents a taste and a trend. It faintly shows its personalization from elegance, romance and dignity. AOONUAUTO Chrysler interior parts can simply achieve an elegant and romantic effect, giving Chrysler owners an extraordinary feeling.
Model reference:
200 Convertible, 200 Sedan, 300 C, 300 C (LX, LE), 300 C Touring (LX, LE), 300 M (LR), ASPEN (HG), CARAVAN, CIRRUS, CIRRUS Coupe, CIRRUS Sedan, CONCORDE, CROSSFIRE, CROSSFIRE Roadster, DAYTONA Coupe, DELTA, ES, GRAND CARAVAN, GRAND VOYAGER V (RT), INTREPID Sedan, LE BARON Convertible, LE BARON Coupe, LE BARON Sedan, LHS, NEON (PL), NEON II, NEW YORKER, PACIFICA, PROWLER, PT CRUISER (PT), PT CRUISER Combi Van (PT), PT CRUISER Convertible, R/T Coupe, SARATOGA, SEBRING (JR), SEBRING (JS), SEBRING Convertible, SEBRING Convertible (JR), SEBRING Convertible (JS), SEBRING Coupe (FJ), SEBRING Coupe (JR), SEBRING Sedan (FJ), STRATUS, STRATUS (JA), STRATUS Convertible (JX), TOWN & COUNTRY, VIPER, VIPER Convertible, VISION, VOYAGER / GRAND VOYAGER III (GS), VOYAGER I (AS), VOYAGER II (ES), VOYAGER IV (RG, RS), YPSILON