Let's know about all kinds of car lights together.
Today I want to show you the decorative lights on the outside of the car. These lights make your car stand out and show the charm directly to friends or passers-by outside the car.
Under-body Lights install under the car body. With RF remote control to change the color. 8 kinds of light colors, 4 Music Sensor Modes, color can be changed according to music rhythm. It's so cool when you drive on the open road and the body light luminous!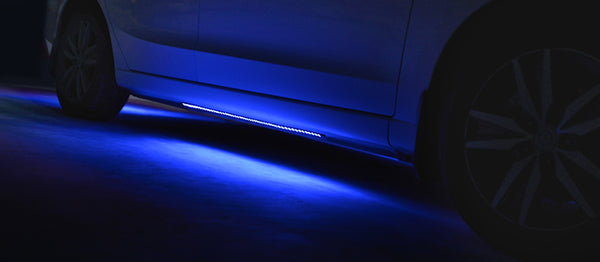 Daytime running light strips can replace amber marker lights and can also work as turn signals in conjunction with the running light. When used as a headlight or taillight, you can choose the single-color mode, colorful streamer mode, colorful flashing mode, single color gradient mode, and single color streamer mode. Amber when used as a turn signal or marker. High quality, stylish and colorful.

Tailgate Lightbar installs to the back of your car.
Brake light: red light.
Driving mode: keep multi-color light.
Reversing light: white light.
Left turn: Yellow light streamer mode right to left.
Right turn: Yellow light streamer mode left to right.
Double flash: The Yellow light streamer mode from the middle on both sides at the same time and the same speed.
when you running your car, it will create a dazzling, bright display that will be appreciated by car buffs. It lets you younger and personalized~

Third Brake Lights can effectively prevent and reduce the occurrence of car rear-end accidents. Third Brake Lights are appropriate for brake lights to caution other motorists, to the benefit of your safety at night and during inclement weather. Multi lighting modes make the car more prominent in other cars.

Do you know more about other car lights? Please leave a message to us~