Car exterior or interior accessories are on the wishlist right after you get a new car because you would naturally be more enthusiastic about making your car stand out among others. Not many car owners are familiar with the array of new-age accessories that are available on the online and offline marketplaces, while many even consider these as pieces of luxury designed only for cars that cost a fortune! Aoonu Auto is here to break that stereotype as the accessories provided for customization are designed for 99% cars that run on the road. Let's have a look –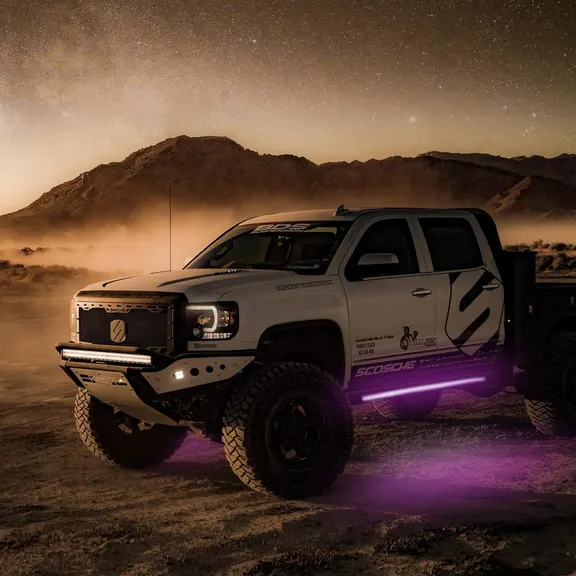 App and Remote Controlled Underbody Lights
The LED underbody lights with IP65-68 waterproof rating are created as flexible strips that can be attached along the edge easily with the 3M double-sided tape. Rain or shine, frost or dust, mud or snow –these LEDs will never get harmed as the silicone housing covers them. While remote control underbody light strip will glow in eight monochrome modes such as red, yellow, white, green, blue, cyan, orange and purple, that in the app-controlled one gives you up to 16 million RGB options.
Make the best out of the two jump modes, two fade modes, four light switch modes and four music control modes of the RF remote-controlled underbody light and you can also adapt to tender, ordinary and DJ music accordingly. If you are inclined to using the app-controlled one, there are as many as 210 color modes that can be customized along with timer and music control modes.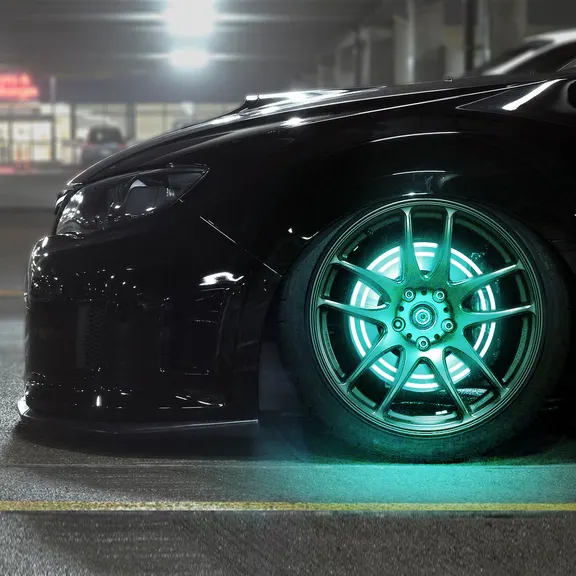 App Controlled Wheel Light Pods
Whether you choose four pods or eight according to the requirement, the RGB rock LED wheel lights can be affordable choices to run for up to 30000 hours. Each pod with 9 watts power will withstand a wide temperature range of -40 degree to about 70 degree Celsius and seamlessly work regardless of the weather, be it scorching summer or merciless monsoon, weary winter or moldy autumn. Choose from RGB 18 million colors for the pods and watch the IP67-rated aluminum diecast housing protect the PC lens and the LEDs underneath.
Another upgraded option to highlight your car wheels will be the double-row app-controlled RGB wheel lights that glow at 18 watts per pod. With the lifespan of 50000 hours and a temperature range similar to the one discussed above, these lights in diecast aluminum housing have waterproofing support with IP67-68 rating.
Shock-proof, dustproof, durable and anti-falling properties make these lights must-have for anyone wishing to customize the wheels. Use Bluetooth connection to adjust the color of lights, working modes according to the music and flickering frequency, add timer or create your DIY effect.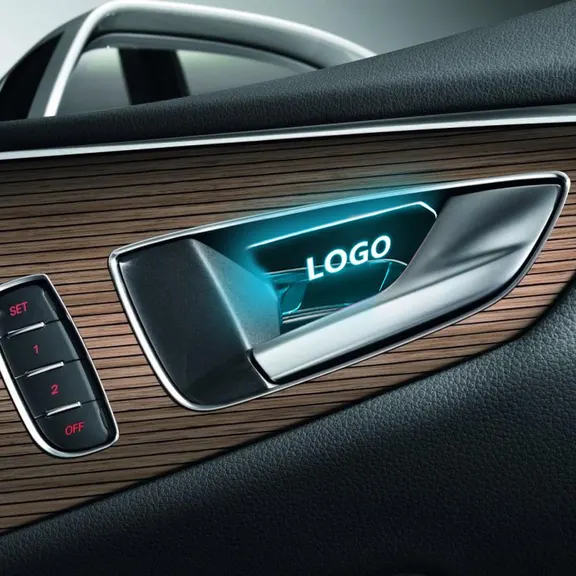 LED Door Handle Bowl Lights  
From Nissan to Pontiac, BMW to Maserati, Jeep Wrangler to Toyota and almost all the known car brands and models are supported by the LED door handle lights in creating the chip that shows the brand name and logo clearly. These ultra thin chips are only about 4-5mm in width and once pasted on the door handle bowl, you will hardly find them obvious or extravagant as each light is created in the universal size so that the fitting is perfect.
These will not only lighten up the crank handle or rolling knob and door handle for you in darkness, but also add to the overall ambient lighting with nine light color variants i.e. multicolor, white, ice blue, blue, red, purple, green, pink and orange. Made of Japanese Acrylic with IP65 certification to provide protection from external elements, these lights can even be customized according to your chosen logo, picture, words, pattern and design.
Apart from these, you can also check out the door sill lights, door logo projectors, LED floor mats and cup holder lights from Aoonu Auto to add a unique touch to the simple accessories of the car.