This 20th June, let your childhood hero enjoy a fabulous car journey using the best LED car accessories from Aoonu Auto. Well, each day is a Father's Day, but when you also get a special date to share some more love to your father, who might have been the first one to give you the driving lessons in his car, some stylish car accessories will be the best gifts. The Father's Day giveaway accessories are not only durable, weather-proof and efficient, but also show how responsible you are towards creating a sustainable environment with energy-saving LEDs. Tell your father that he will never be too old to show off the stunning light accessories and boost his confidence just like he has been doing since your childhood –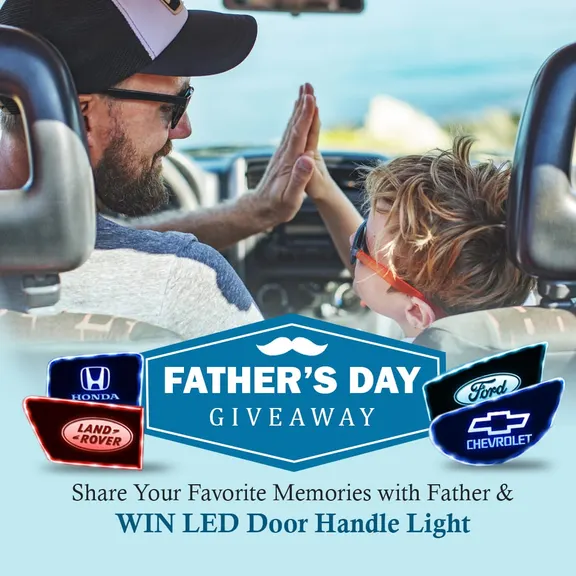 Accent Lights To Offer A Car Journey 'To The Stars'
Gift the LED accent kits for interior ambient lighting and the amazed look on his face seeing the starry sky on the roof and throughout the interior will make your day too! If red is his favorite color, you will never go wrong with the general version red ambient star light kit that runs in single starry light mode, as well as multiple lighting (flash, music And breathing) modes with remote control. The blue intermediate version also offers different lighting modes and if you wish to give him a slice of both red and blue, check out the premium version rooftop light.
For more jazz, there is super version with seven different color variants and the additional super nebula effect that will definitely enthrall your father if astronomy is his thing. However, he prefers something not too flashy, the interior seven-color atmosphere accent kit in music and breathing modes will be a win-win.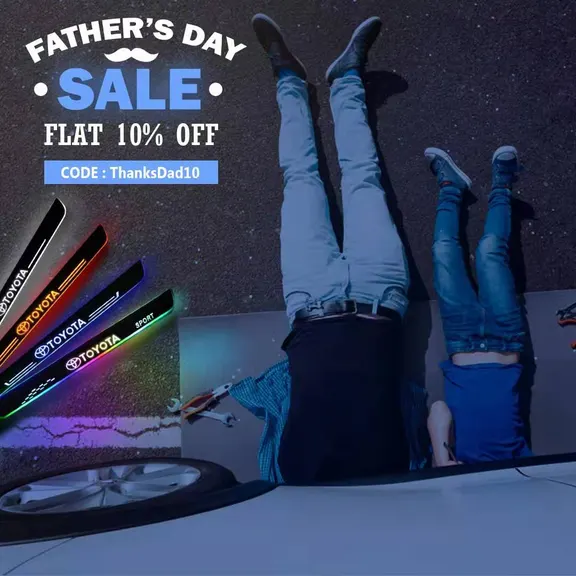 Stylish Door Handle Lights To Help Him Locate Knobs
The LED door handle lights will be of immense help for you father if he struggles with finding the car handle while getting in and out or window rolling crank handles or knobs in low visibility. This will show him how much you care for his convenience instead of making him feel restless about his visibility in the dark. As these lights come with brand logos and names, you can choose the brand of his car or even get it customized with a code word that you both share, the family name, the company he works in and so on to add a personal touch.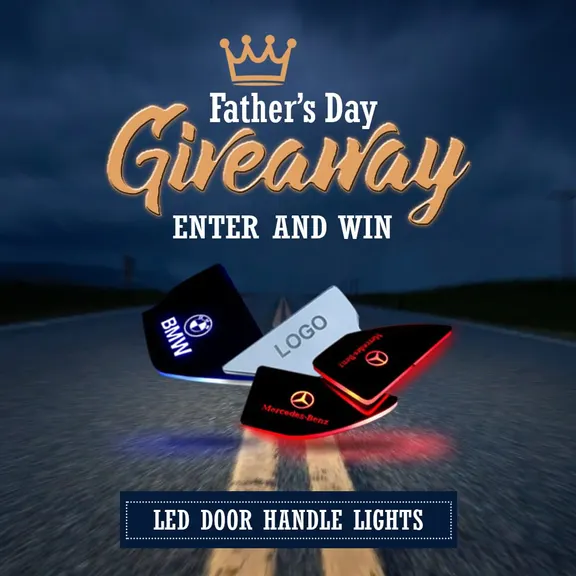 Door Sill And Projector Lights To Guide Him Through
Our father has always guided you through the hard times, showed you the way through rough roads and held you when you tripped in the dark. As a Father's Day gift, consider getting him branded or personalized door sill protector lights to prevent his door frame from getting damaged and door logo projectors so that he can get in and out of the car in dark areas safely with a bright reflection on the ground.
Aromatherapy Diffuser To Invigorate His Mood
Among the best car accessories, the aromatherapy diffuser with two included sticks will be the perfect gift to cheer up his mind while he drives. There are seven types of aromas like citrus, blooming bouquet, elegant ocean, spicy flowery, lavender, floral and fresh jasmine to choose from so that you can get the fragrance your father likes. This accessory also comes in brand-specific logo and customization facility. Watch your father enjoy changing light modes and colors and the smile on his face as the light glows once the ambient light is dimmed.
Apart from these, you can also gift him tailgate light bars or third brake lights if his car does not has those. Getting his existing headlight lamps and taillight replaced with the high-quality LED bulbs of Aoonu Auto will also make him happy.