Most cars on the road have some form of LED lighting, but very few have perfect LED lighting. Usually, it's an aftermarket addition or an afterthought. The result is that many cars have bad LED lighting that doesn't do the job properly.
This post will teach you the 5 secrets to perfect LED car lighting. By following these tips, you can ensure that your car has the best possible LED lighting. These tips will also help you avoid common mistakes people make when installing LED lighting in their cars. Let's get started to learn more with AoonuAuto.
1. Do your research
Car lighting has come a long way in recent years, and one of the most popular upgrades among car enthusiasts is LED lighting. LED lights are more energy-efficient than halogen bulbs and can last far longer, making them a good choice for automobile owners who wish to replace their lighting.
But not all LED lights are created equal. There are various aspects to consider when choosing LED lights for cars, from price to brightness to color. And with so many other options on the market, it can be tricky to know where to start.
That's why it's crucial to complete your study before purchasing LED lights for your car. This way, you can find the perfect lights for your needs and ensure you're getting the best possible value for your money.
2. Find a reputable installer
If you want to add perfect LED car lighting to your vehicle, it's important to find a reputable installer. Many companies claim to be automobile lighting experts, but not all of them are created equal. You want to choose an installation with experience and knowledge in installing LED lights, so you can be confident your automobile will be correctly outfitted with the proper illumination.
The best way to find a reputable installer is to ask around. Talk to friends or family about LED lights installed in their cars and see if they have any recommendations. You can also search online for reviews of different installers. Once you've found a few potential installers, contact them and ask for quotes. It will help you compare pricing and find the best option for your needs.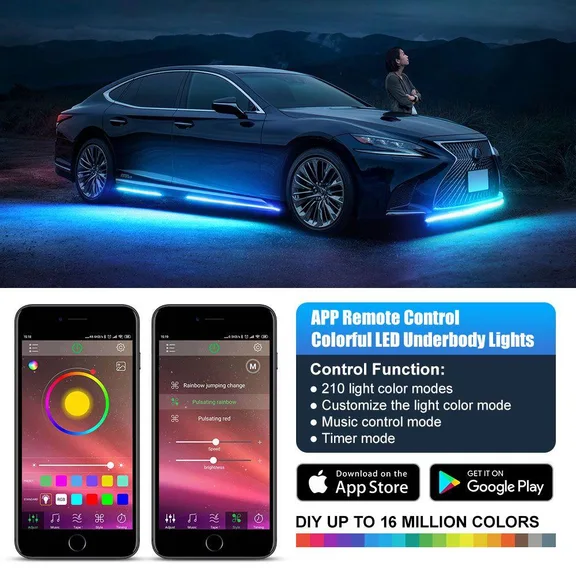 3. Prepare your car
Whether driving in the daytime or at night, it's important to have proper lighting for your car. It is not only for safety but also for style. LED lights are a great option if you want to upgrade your car's lighting. They're much brighter than traditional bulbs, and they last longer, too.
But before you go out and buy a bunch of LED light for cars, there are a few things you need to know. In this post, the AoonuAuto company will give you a quick guide on preparing your car for perfect LED car lighting. Also, they will cover everything from choosing the right lights to installing them correctly.
4. Communicating with your installer
Before your LED car lights are installed, you must converse with your installer to ensure the process goes smoothly. You will need to communicate your vision for the project, as well as any specific instructions or requirements that you have. LED car lights are a significant investment, so you want to make sure that everything is done the first time correctly.
Your installer will need to know the following information:
The type of car you have
The size and dimensions of your car
Your budget for the project
Your timeline for the project
Any special instructions or requests that you have
With this information, your installer can give you an accurate quote for the project and start working on your LED car light installation.
5. Be prepared to troubleshoot
While LED car lighting is becoming increasingly popular, a few potential issues can arise. They give you a quick rundown of some of the most common problems with LED car lighting and some tips on troubleshooting them.
One of the most common problems with LED car lighting is flickering. It can be caused by several factors, including loose connections, incompatible bulbs, or even a dying battery. If your LED lights are flickering, you should first check the connections to make sure they are tight. If that doesn't solve the problem, try swapping the bulbs for a different type. If neither of those solutions works, it's possible that your battery is the issue.