If you are an automobile enthusiast and sturdy car parts are what you look for, the chunky tires will always be something you would put a significant emphasis on. Be it a stylish luxury car that will attract the envious gazes from everyone on the road or an off-road vehicle that will take you through rugged terrains as smoothly as ever –the car wheels play a great role. While some car accessories help these sleek wheels gloss or glow while the car is zooming along the road, some accessories add security to those wheels. Aoonu Auto is here to give your car wheels a perfect protection and style quotient with the LED underbody lights.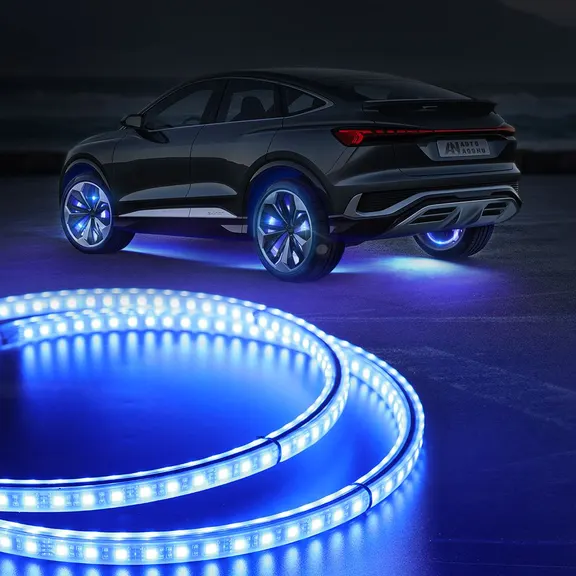 Lights To Consider For The Wheels
You would not want to drive a luxury car with an inflated tire as it will mar your status symbol. A dirty or leaked tire is more concerning when you are traveling in an uncharted terrain with no person or mechanic shop nearby. Here are the two most efficient wheel lights to add style and security –
Bluetooth Control RGB Flush Multicolor LED Neon Light
The more affordable version of the two, Flush LED Rock Lights with Bluetooth and mobile app control features is available in eight and four pods so that the car users can get their required quantities.
Features: The CREE LED chips run on 12V DC voltage while the power consumption for each pod in only 9 watts. Suitable for universal vehicles, its wire connection is not complicated as the red wire is to be connected to +ve charge and the black one to –ve charge.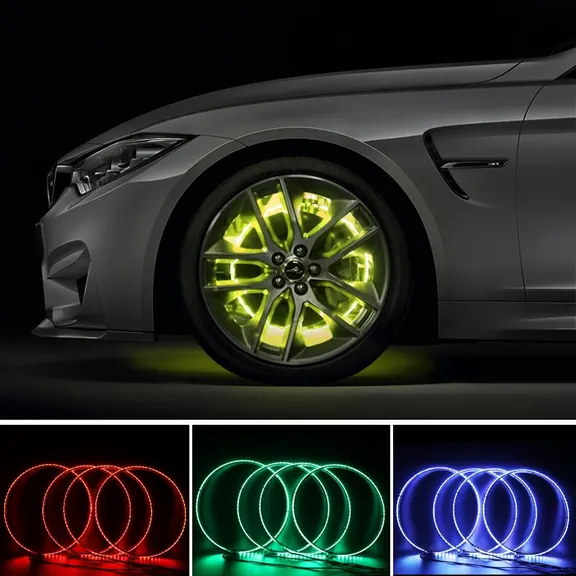 The advantages of these LED lights include –
PC lens offers crystal clear glow without any hazing
Aluminum diecast housing has IP68 grading to avoid rain, snow and other weather adversities
The working temperature ranges from -40 to 70 degree Celsius
The lights have service lifespan of 30000 hours
Installation is easy with some basic tools and included nuts, pads and screws
What is better, these LED rock lights come with over sixteen million RGB color options and multiple working modes like the music mode where flickering frequency and color change according to musical beat. The timer-function helps in automatic light on/off feature and you can create the effects by Bluetooth connection with the mobile app.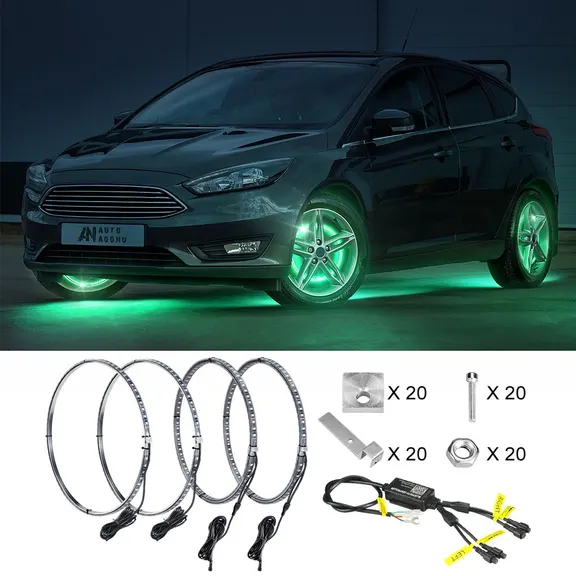 Phone App Control Double Row RGB Multicolor Rock Lights
The Double Row Multicolor LED Wheel lights have compact and stunning design that is durable, dustproof, shockproof, waterproof and have anti-falling properties. The interior to the aluminum casing has imported lamp beads where each pod consumes 18 watts of energy. The voltage of these CREE lamps are the same as the above variant i.e. 12V DC.
The advantages include –
Plug and play design with included pads, screws and nuts make way for ease of installation
With IP67 rating and temperature range of -40 to 70 degree Celsius, the lights are suitable for any weather condition
As one of the best car accessories, it has runtime of 50000 hours and larger light range for a cool effect
You can go for the default color control and working features with Bluetooth connection established after you install the Smartphone app by scanning a QR code of the controller or create a DIY effect.
Using these LED lights for wheels will ensure reduced carbon footprint on the earth and energy conserving. Aoonu Auto has created these lights in such a way that you can sync the color and working mode with music.