This cool effect of lighting in the car is wonderful, creates the most soothing environment is like that paradise around you. It is so elegant and soothing that it doesn't disturb the line of sight of the driver rather makes the Mercedes driving experience worth it all.
We all know that we have to keep aside a great amount of money while buying a car for ourselves. It is a decision that is taken after many reviews one evaluates, many factors one takes into consideration while buying a car. Once the beauty comes home, it becomes the owner's responsibility to keep it well maintained and upgraded. So, one of the best upgrades you can give your car is vehicle accent lighting which is like atmospheric lighting thus enhancing the overall beauty of your cars.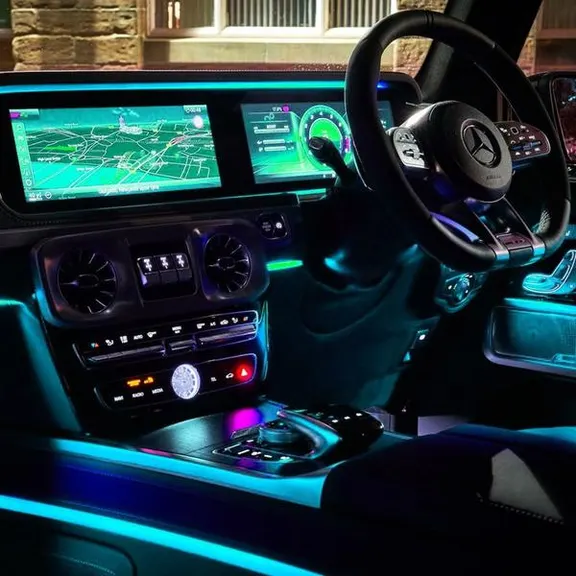 Here's all about in budget accent kit you should know:
Gorgeous lighting just for $38, go get it for your Mercedes today
All it takes is a small amount of wealth when all you need to keep aside is a budget of $38 to own this beautiful accessory by AoonuAuto. Mercedes is already a car that has perfect design and optimally detailed engineering, a car that is an icon of class and luxury.
So, all it needs is a safe and secure accessory which also adds a soothing atmosphere inside it. This LED accent lighting kit creates that Hyun-cool effect creating magic inside the car and rendering all the elegance while you sit in.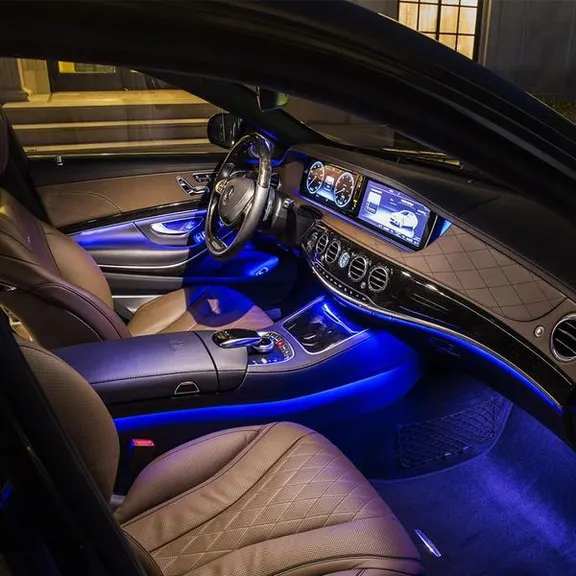 Wonderful specifications much under $50
This accessory is a great bargain that comes for under $50 that's an incredible price to own this auxiliary. This has the remote-controlled LED strip lamp which lights up the atmosphere of the car very subtly, thus not affecting the driver's line of sight.
There are three variants of this LED light strip one is 7.5 inches, 8.7 inches and 12.5 inches (the ideal measurement can be bought corresponding to the Mercedes model). The strips are made of LED chip-set and silicon housing that makes this flexible to use. They are water-resistant and anti-corrosion in nature, therefore, assuring of the high-end quality of this special car accent lighting.
This budget accessory for your Mercedes is multi-mode enabled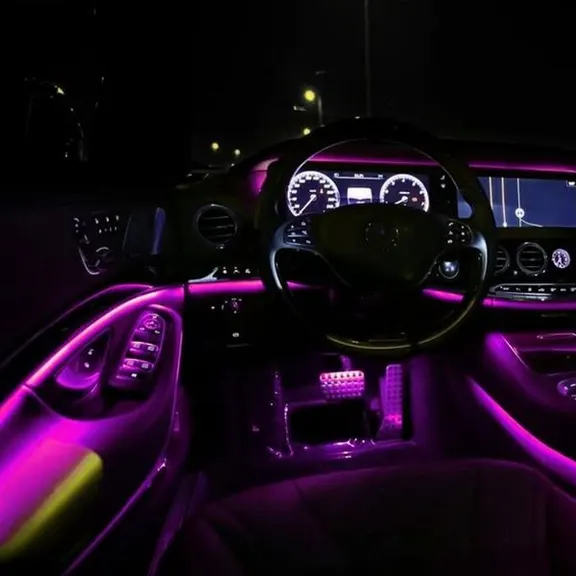 Using the remote control you can explore the multiple control functions like switching to 8 monochrome modes, 3 color jump mode, 3 breathe modes, 7 switchover modes and also music sensor modes in which colorful lighting occurs inside the car according to the rhythm of the music. These colors will render you the best experience of a night drive and create a magical ambiance inside the vehicle.
The accessory will accentuate the appearance, experience and luxurious appeal of the car that will help you fetch so many compliments as you drive along with LED accent lights for cars that's convenient and easy to be fixed without biting off your whole day for installation. This would that much await experience and well-deserved too by your Mercedes as the effort would be worth it.
A general belief about using car accessories is that it is a showy business that drills a hole in your pocket. Well, this is untrue and AoonuAuto especially has a range of budget accessories that bring elegance and safety without asking you to spend much.