The whip lights are the ones which are mounted on a flag pole as an accessory meant to make your cars more noticeable when on roads.
We all wish to have some extra returns and perks of everything there on our platter. It could be an additional discount on a pair of denim, or 'buy 1 get 1' on a t-shirt, be a 30% sale on a favorite brand of shoes, and so on. Amid all these expectations, there is a need to realize that there are no free lunches in life and some kind of investment always has to be made, if we must presume some returns.
Therefore, a certain amount of premium has to be made to reap the benefit of life insurance policy, and similarly, it applies to all other aspects of life as well. So, when it comes to cars, only when we maintain it well and invest in its well-being, it will provide you with proportionate comfort and a better experience of driving.
It is always better to invest in some secure and safe car accessories which will diminish all potential threats to your driving experience. Therefore, AoonuAuto's range of accessories proves to be an asset in which you make a one-time investment and can enjoy benefits all through your car's running life.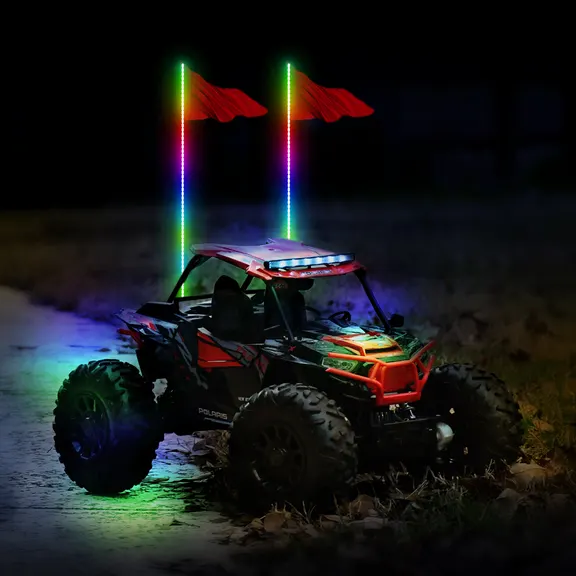 Let's throw some light on the significance of LED whip lights which render tight security to your drive:
These lights are in multi-color and they flash in multiple patterns that render a unique and charming look when they are on. These lights have a 360-degree spiral design that looks so glittery and classy because they contain LED chips of light that will make the whole car shine so sharply and scintillatingly.
These lights are mounted poles on two rear corners of your car which highlight your car through the night drives, especially added so much safety to your night drive on a highway as your car would be speeding. The glimmering and ornamented LED flag pole would strive to make your car noticeable even from a distance.
The quality of the flag poles is premium, they have great strength in their material because even when your car jumps or touches some tree branches while driving, the aviation aluminum material will brave all the environmental oddities. This design can be, however, easily disjointed, in the case you wish to uninstall it for some time.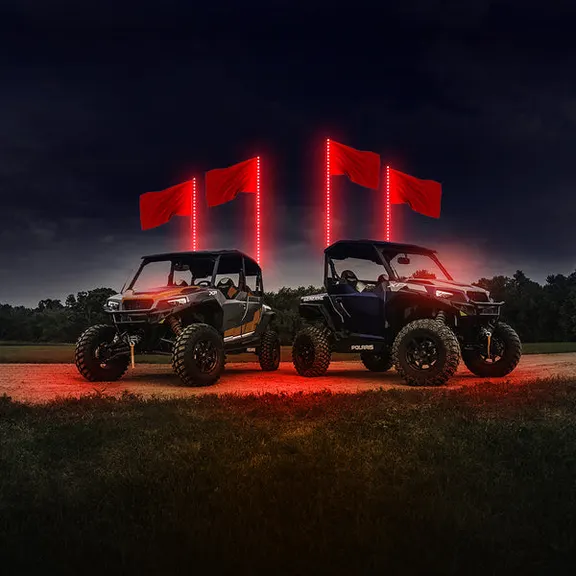 The dynamic LED whip lights have a lithe application because they can be connected anywhere on the exterior of your car; at a position, you feel it suits the most to. It would be great fun to use this preserved and reliable accessory when you are planning a friend or family trip where two-three cars have to keep along on the track with each other. So, with these flashy auxiliaries by AoonuAuto you can easily spot each other while driving through wavy roads and especially on highlands where it gets dark early.
These whip kit accessories are the lights have an enormous range of application like it can be easily installed perfectly on trucks, UTV, ATV, RZR, Can-am, Dune Buggy, Sand Rail, Jeep, four-wheeler, kart, motorcycle, industrial equipment, and other equipment.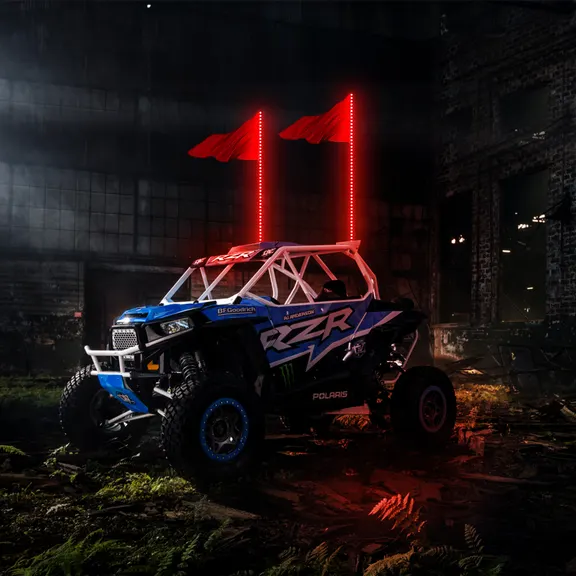 Therefore, these lights deserve a space on your cars, as they are all geared up to add the brilliance of LEDs, safety, and security in varied colorful patterns to your cars and trucks.