Having headlights, taillights and daytime running lights for your car is quite common, but how many cars have you seen with lights beneath the body? Not many as it seems, because most people would rather frown upon hearing that there can be lights for underbody, thinking it completely unnecessary to "waste" money. However, if you think calmly, the necessity of LED underbody lights would seem more obvious because having an illuminated surface under the wheels where no light can reach will be nothing but useful. Especially when you are driving in dark or have parked the car in a dark shadowy area, locating the car becomes easy. Aoonu Auto helps you with the cost-effective underbody lights that enhance the overall look while adding security.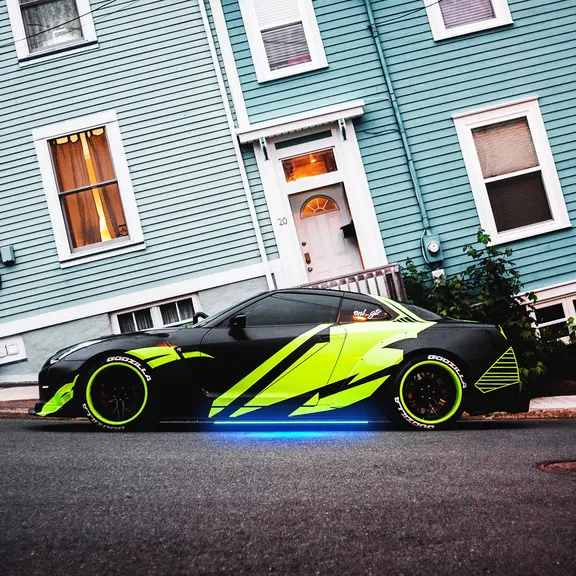 Remote Control RF Underbody Lights
Available in two sizes i.e. two 60cm with two 90cm lights for model YZ-020 and two 90cm with two 120cm lights for model YZ-021, the RF remote control lights can be installed properly in cars of different sized models. The features of these affordable lights are as followed –
You get eight monochrome modes of red, orange, yellow, white, purple, cyan, blue and green. You can select one particular color that will glow beneath the car and also change it as needed.
With remote control, you can change four lighting modes. There are two dual modes, two fade modes and four music control modes supported by music sensor where the lights flicker according to the tune.
The LED light strip working in 12V DC voltage has insurance tube or you can use cigarette lighter interface. With IP65 rating, the LED lights can brave hailstorm, rain, drizzles, dust storm, mud and any other weather adversities.
Installing the LEDs is not a hard task as these strips are ultra thin and flexible enough to insert within the gap under the body and after the drill-free non-destructive and non-wiring installation with double-sided 3M tape, the strips will be virtually invisible although the lights will be perfectly visible.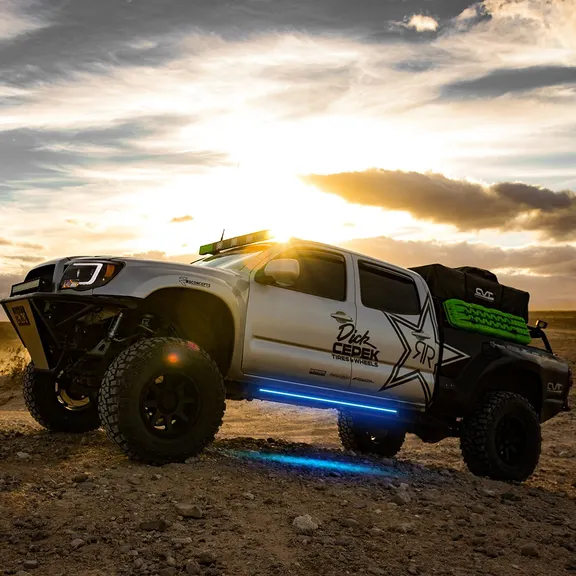 App Control Colorful Underbody Lights
The 5050 LED light with 100000 hours of lifespan is available in three sizes i.e. two 47 inches with two 17 inches for YZ-025, two 59 inches with two 21 inches for YZ-026 and two 59 inches with four 21 inches for YZ-027 model. With wired interface supported by 78 inches main wire and two 78 inches light strip wires, this colorful variant works at DC 12V voltage. The special features of this light include –
There are as many as 210 color modes and you can even customize the light colors. When music is being played inside the car, you can easily customize the light effect to change according to the rhythm.
The lights are certified with IP65 waterproofing for safety from inclement weather. At the same time, these lights can be among the best car accessories with the effect of chassis lights.
There is no need to manually change the color as the remote control through Bluetooth on the mobile app will help you in doing so. You need to download the app by scanning the QR code on control box and place the sensor near car speaker.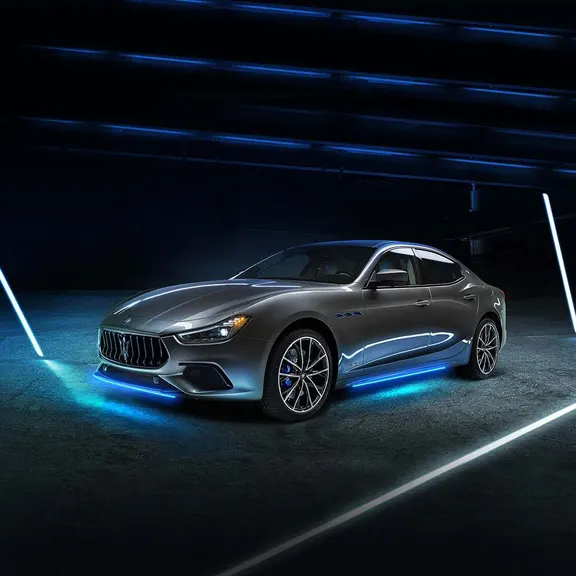 Once stuck perfectly with the adhesive tape, you can be assured that these LED strips will not be detached in the following years. Also check out the underbody wheel lights from Aoonu Auto if you want to add a dynamic touch to the care wheels.