One of the most unique and stylish lights for car interior in recent years will surely be the door sill lights that are installed along the door frames. Displaying the car logo or brand name might seem tempting to many car owners while many owners would consider these lights for convenience of lightening up the interior and the outer surface when the car is parked. Available in packs of two for the front doors and packs of four for all the front and rear doors, the LED door sill lights from Aoonu Auto will make sure that your requirement is covered. So, if you are wondering whether these lights are worth it or will remain as stylish in the following years, follow the reasons below –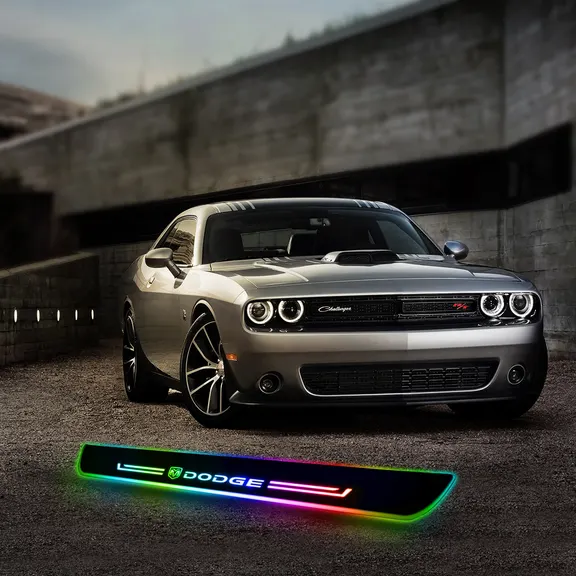 Brand Names That Will Draw Attention
Even if the color scheme of the car or the vehicle itself seems too conventional to look at or steal second glances from pedestrians and other car occupants, the brand names have always been head-turners. You might not point out the brand name of a car from the outside, but when it glows through the door sills as the car doors are opened, you will know which car model has such a unique lighting. Nissan, Mitsubishi, Skoda, Hummer, Vauxhall, Suzuki and various other car brands present in the automobile market have their brand-specific door sill lights in Aoonu Auto and brands will never go away in the upcoming years.
Unlimited #Trending Customization Options
The LED lights can be your #trending option to showcase your creativity in the door sills as there is facility of customizing logos, line style for the brand names or motto, color and the size will be adjusted according to the vehicle you specify. Even if car brands merge with other or logos change, your choice of logo and words will forever be present in the car bearing your personal touch.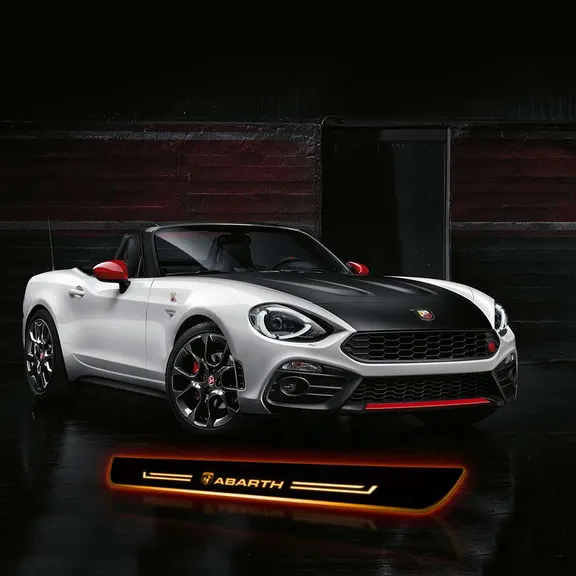 Lightening Up Door Area For Safety
Car door sills are subject to get scratches, tears, dirt, dust, mud and debris from the outside, either through the heels of the persons getting in and out of the car, or due to rugged terrains while driving. The door sill protector panels will flash slowly or in a steady flow to highlight when the ignitions are on or when the doors are opened so that you never trip and slip even if the car is parked in a pitch-dark area where the surface is not visible properly.
Timeless Design With Sturdy Buildup
With IP67 waterproof and dustproof rating, these car accessories made of Japanese Acrylic  are only about 0.4-0.5cm thick to ensure a timeless slim-fit design that can be snugly installed with double-sided adhesive tape. Besides, these light panels will help concealing any existing scratches or stubborn stain that was along the sill.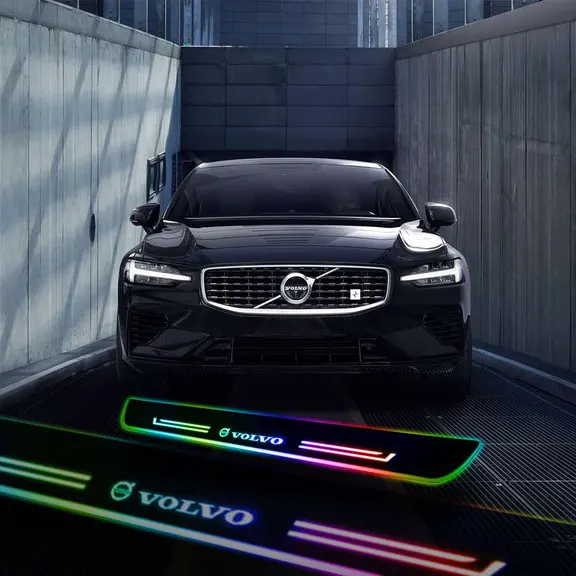 Styling Options Without Pollution Or Energy Consumption
Using less than 0.5 ampere current and working within 12v voltage, these highly bright door sill lights are safe to use and the installation without complicated wiring makes sure of zero electrical hazard. Multiple color options are available such as colorful, red, rose red, green, blue, yellow and white. These LEDs will be energy-efficient lighting options and will make way for a pollution-free operation as these do not emit harmful smoke or chemicals.
As a customized product designed according to the vehicle dimensions and preference, the door sill lights are anti-corrosive so that you do not have to worry about wears and tears in the long run. These are also easily cleanable and will be a low-maintenance car accessory.