Do you need interior lighting for the car when a pocket-sized light affixed on the roof can offer brightness? The answer is yes, for interior lighting is more than that little ray from a teensy bulb, but something that can enlighten the entire seating area and floor space if possible. Aoonu Auto has made sure that you never have to settle for something less or compromise with the overall ambient lighting and therefore, the LED accent lights for cars come into the picture.
The requirement for lighting varies from person to person. Drivers with relatively less height will find the lights highlighting the leg room more beneficial to reach out to the brakes and accelerator. On the other hand, passengers or drivers wanting a dreamy ambience will find the ceiling lights more suitable.  Let's have a look at the various accent lights from Aoonu Auto so that you can understand what suits your mood the best.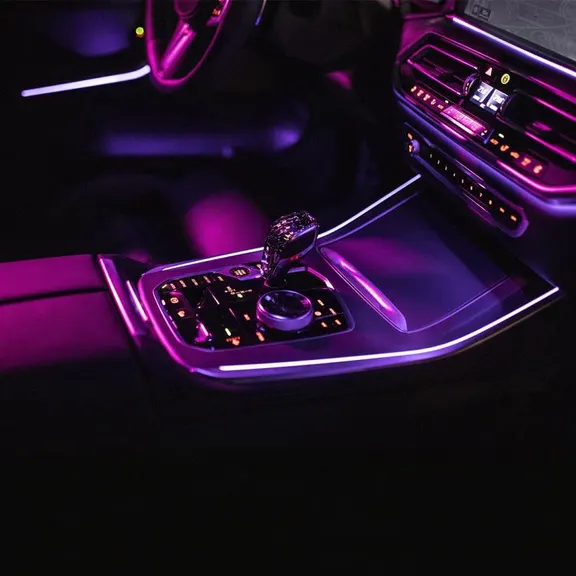 Fiber Optic Multicolor Kit
Instead of having an accent kit that offers ambient lighting, why not go for the fiber optic modern accent lighting that will highlight all the sections of the car starting from the dashboard to the air-conditioning unit, door handle bowl to the door frame, gear box to the music system, seating area to the cup holder. These high light transmitting diodes are flexible, waterproof and anti-corrosive while being suitable for any type of vehicles with DC power supply of 12V. The optical fiber consumes low energy and is safe to use with non-conductive, non-heating properties.
Dynamic Starlight Super Version Projector
Seven colors namely red, blue, green, ice-blue, yellow, white and light purple are added in the super version of starry sky LED accent lights where you can even add super nebula lens for an additional nebula effect in addition to the starry night sky. There are flash mode, breathing mode, dynamic mode in forward-backward motion and music mode with rhythmic flashing.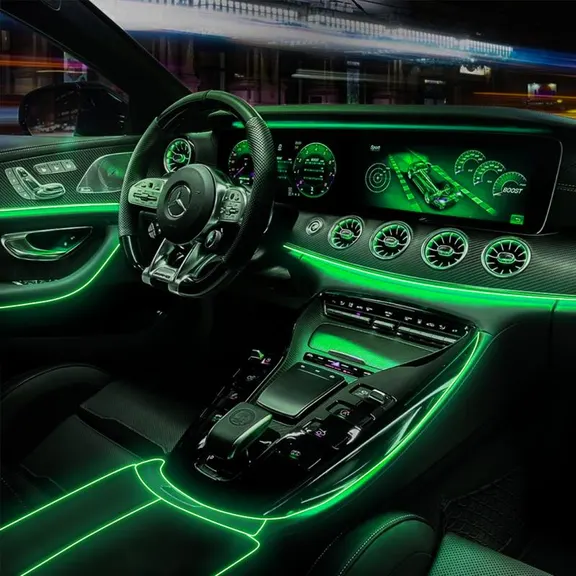 Red And Blue Premium Starlight Kit
With Class II B graded red, blue and green laser lighting, the premium starry skylight kit is waterproof with IPX4 rating. In breathing mode, the red and blue lights change alternately, in flash mode, the red and blue lights flash alternately and in music mode, the LED lights flash in the musical rhythm.
Single Color Intermediate Version Starlight
Unlike the premium version, here you can choose either blue or red color for the starlight effect where red light without remote control has only one glowing effect and the remote-controlled blue light has three modes namely breathing, flash and music modes.
Single color ambient general version kit also works in the same way although here you only get red light color in single and multiple lighting modes.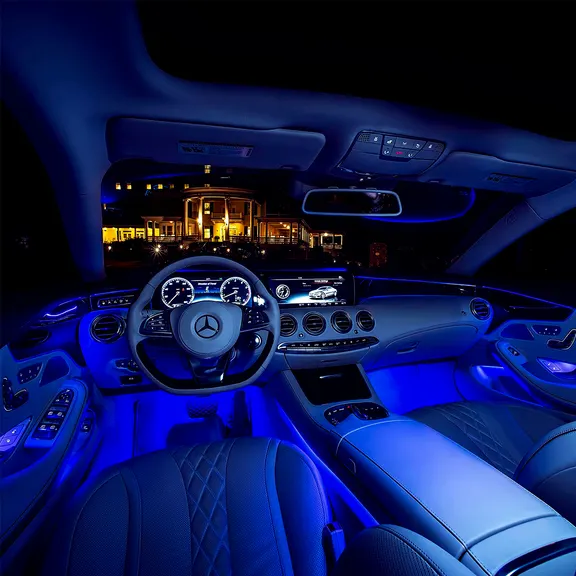 Starlight Atmosphere Light
While the above-mentioned accent kits are more directed to highlighting roof and upper sections of the car, the starlight atmosphere light offers car accent lighting for seating area and below. It has seven color variants that change alternately and features breathing and two music modes.
You can also consider the 48 LED 12V DC App-controlled LED accent kit that has sixteen million color variants with different modes like single color, colorful, strobe, across fade and flashing alongside music modes, timer function and mic feature.
Available for 12.5", 8.7" and 7.5" variants for both 12V DC and 5V USB category, the  interior atmosphere light is another option with eight monochrome light colors including red, blue, yellow, cyan, purple, white, orange and green. It will also offer you 3 and 7-color jump, breath and switch-over modes with four music modes.