No matter how illuminated the exterior is, your car needs proper lighting to the interior to ensure safety and convenience of the driver and occupants. While many cars offer the standard warm toned small bulbs for highlighting the seats, those are not bright enough to help you read properly or work on your laptop. At the same time, it becomes difficult to check the music player, air conditioner or other controls while driving in dark. Locating anything fallen near the accelerator or brakes will be easier if there are LED accent lights to brighten up the interior of the car. These energy-efficient lights are not only designed to lighten up the floor but also the roof of the car interior and the main sections.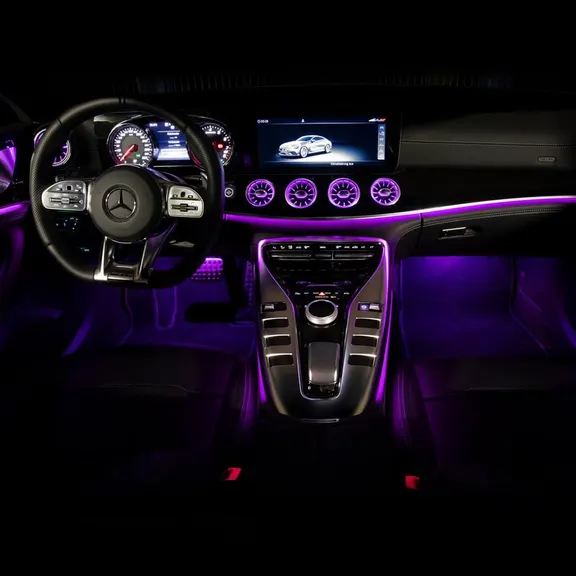 76
Atmosphere LED Lights
The atmosphere LED accent light kits are available in six size variants i.e. 7.5 inches, 8.7 inches and 12.5 inches for DC 12V and USB 5V. While choosing from eight colors like purple, white, orange, blue, ice-blue or cyan, red and green, you can sync them along with the rhythm of the mic and change colors according to the rhythm. There are eight single color, three color jump, seven color jump, three color breath, four music sensor and seven color switchover modes to choose from. The LED strips are flexible and brightness can be adjusted.
Another option for accent lighting will be the 12V DC kit with 48 LEDs that come with a remote receiver and a cigarette lighter for syncing music along with up to 16 million colors in single color, colorful, strobe and flashing modes. The remote is compatible with your mobile app for ease of changing music modes, mic function and timer of the car accent lighting.
For a dreamy astronomical vibe, you should check out the starlight atmosphere lighting that lets you choose from seven colors that change alternatively in breathing and music modes.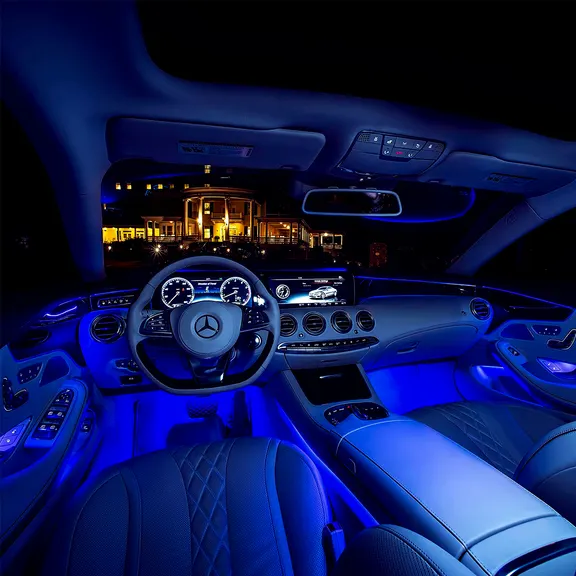 Interior Starry Sky Roof Lights
If the floor and seating lights do not suffice, check out the star lights for roof and top section of the car available in four different variants –
The general version of the ambient light comes in a single color (red) mode and can be installed as remote-controlled multiple lighting modes and non-remote-controlled mode. With about 10,000 hours of lifespan, these lights are also available in breathing, music and flash modes.
The blue and red ambient starlight of intermediate version can give a charming vibe to the car interior as the light spots change the pattern automatically and you can also customize it with remote control.
The premium version LED accent lights for cars is also available in green, blue and red light projection in spherical and magnet design.
Its super version with dynamic starry sky accent kits has red, green, yellow, blue, light purple and white lighting colors and you can choose flash and breathing modes along with music mode that syncs with rhythm and dynamic mode in which the light flows forward and backward. Go for star sky or super nebula effect with super nebula lens. What is more, you can make use of the in-built voice control, flickering and breathing features and motor reversal.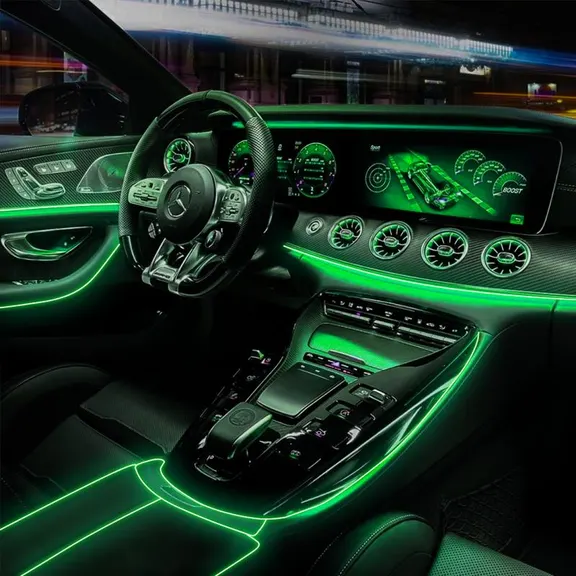 The Fiber Optic multicolored accent lights can also be considered as affordable options to highlight the seating area, door handle frame, control panel, cup holder and other main sections.