LED accent lights are the kind of ancillaries that make the fun double when you are taking up the drive. Your itinerary will no longer be boring with these exquisite lights installed in your car.
Serving its customers a myriad platter of options, AoonuAuto has a range of useful accessories that look fancy, gorgeous, and luminous but also are an asset to be invested in. As the name says, 'accent', so it's a no brainer that this set of led accent lights will make your car look more illuminating and better highlighted. The accent lighting is a way of decorating your car's interior to get a special, to make the experience of driving distinguished.
LED accent lighting is a popular accessory by AoonuAuto, gradually getting popular among the people because it lets you explore your adventurous side and adds a tinge of glamour if your car is monotonous on the inside. Let's explore its various features: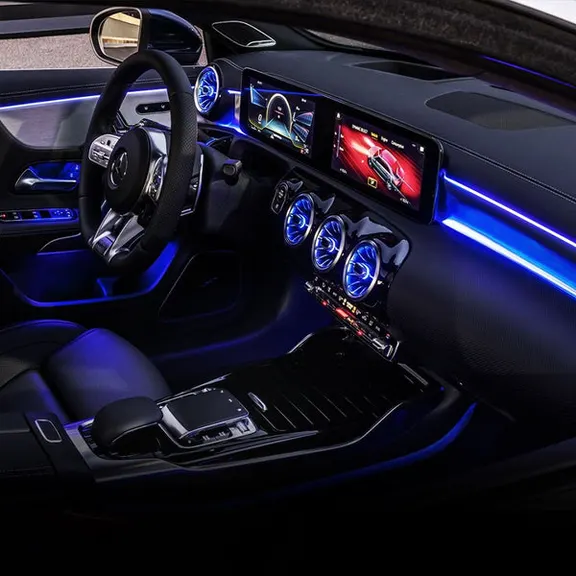 Brilliant specifications
The Accent lighting kit at AoonuAuto is available in two types:
RF remote controlled accent light kit
This kit comes with a remote control that helps in operating the light strip. The strip size is further available in three sizes: 7.5 inches, 8.7 inches, and 12.5 inches which can be bought according to the size of one's vehicle. The light strip can light up in 8 colors and has the USB interface voltage of 5V.
APP controlled accent light kit
This light strip has the provision of 48 LEDs which sharply illumine the interior of the car and can be operated using your phone. The advanced technology allows you to operate the accessory from your phone only, it is as simple as downloading an APP from play store and there you go!
Both the accessories are supported by cigarette lighter interface which ensures smooth running and allows the user to skim through the settings very easily and readily.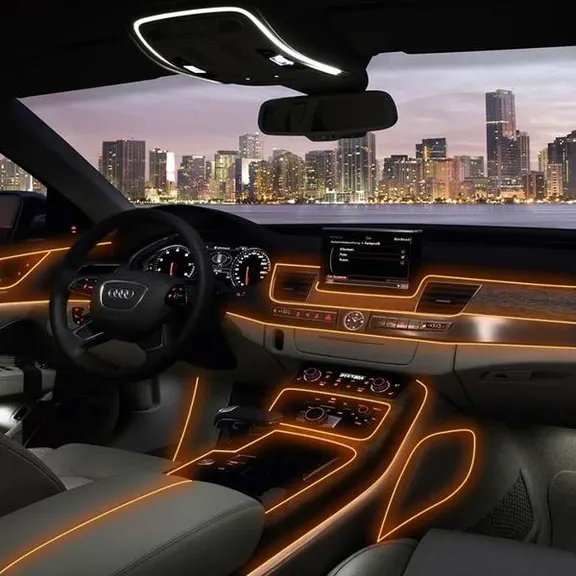 Rendering the most colorful and musical atmosphere inside your car
Every owner wishes to fetch compliments from the beholders, a word of encouragement does wonders for every tone. Rest assured that if accessorized with led accent lights for cars, yours wouldn't be far away from being a showstopper. Sitting inside the car with accent lighting switched on will alter the ambiance of the car and would uplift everyone's mood and spirits.
The colors-red, green, blue, white, yellow, cyan, purple, and orange change the dull monotones to tainted undertones of colors. The sorts are exotic, add the Hyun-cool effect, and make the ambiance highlighted. It is fun when driving with friends, and you switch to music sensing mode, this mode will let you liberate and free into a small disco of your own. Even if you are on a long trip with your family and friends, you will enjoy the ride to the fullest because of colors and music.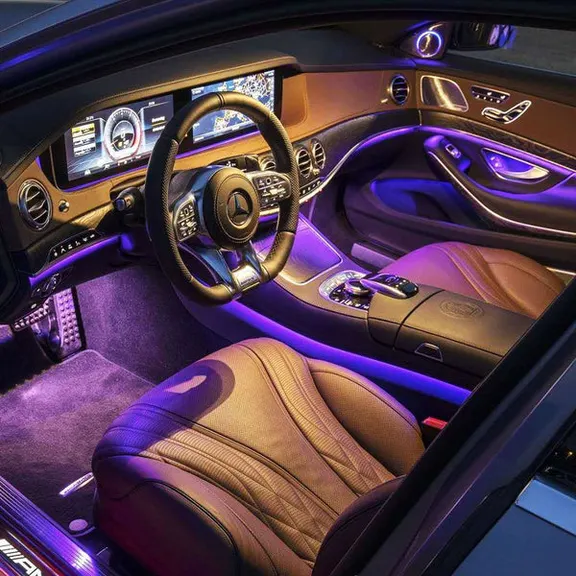 Ensuring an uplifted mood and safety
Usually, while on road a driver can get drowsy and might lose sight from the road because of the dark. With accent lighting inside your car, the rhythm of the music and changing colors of the lights would be enough to keep anyone glued to it. This way the driver will be able to keep wide awake without getting distracted in the line of sight as well. So, who says long drives won't be fun?
Therefore, an LED accent light kit by AoonuAuto is an accessory worth installing, to savor the best of taste and luxury along with special effects and great music while driving.