A unique and dazzling sort of ambient lighting that is available in three models to fill up your journey with great pleasure and the one that strives to provide you the best experience of traveling under your private starlit sky.
It is almost a dream to take a night drive under the dark sky laid down with widespread twinkling stars in a serene air. AoonuAuto brings forth the most wizardly form of lighting- starry sky ambient light accessories for everyone's budget, the illumination that not just beautifies your car but also renders a unique experience of driving.
There are three versions/models into which starry skylight can be experienced. Here let's throw light on each one of them to know their respective striking features: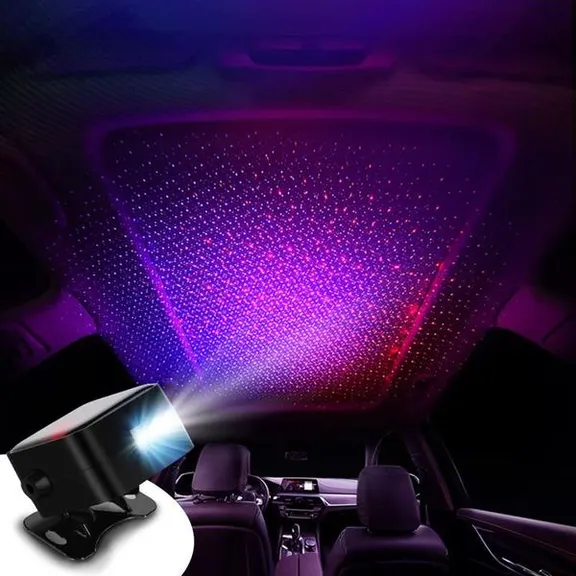 The single color general version of the starry sky lighting
This beautiful and unique starry sky lighting comes with a stable lighting mode which reflects Red. When this product lights up, it gives a laser-like illumination with laser power 100mw. The item has three modes that can make your car's ambiance look even more gorgeous and fun; like flashing mode, breath mode, and music sensor mode. It is a one-stop destination for you if you wish to own experience within $40 breaking the monotony.
The working voltage of this product is 5V; it has a laser wavelength of red 650nm which also has a safety grade of remarkable Class II B. The connection is done with a USB socket by directly inserting the power cord in it. Therefore, it ensures a hassle-free installation of this product in all cars. The red color adds an exceptional charm to the interior of the car gives it a very lavish look and uplifts the mood of all passengers.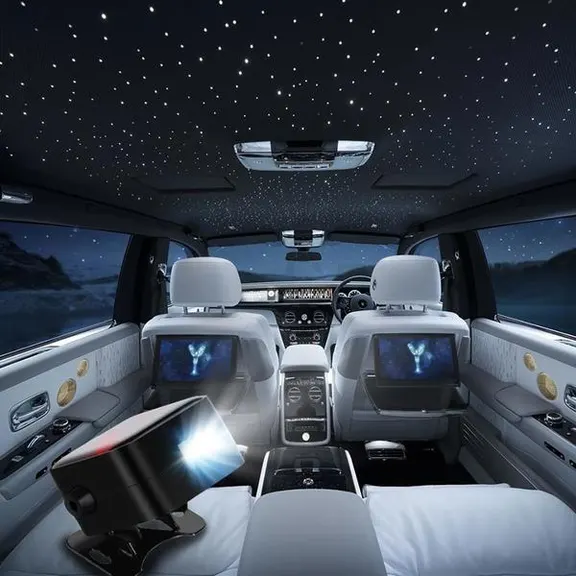 The intermediate version of the starry ambient light
Apart from having an installation in your wonderful four-wheels, you can also install this multi-purpose ambience light in your drawing room, kid's room, shop, or office too. This competent version comes well within $80 from the AoonuAuto's car online store, which will add more charisma to your night drive as these starry night lights for cars worth a try.
The distinguishing factor of this version is that you can switch in two colors red and blue (both hues being glowing, soothing, and dazzling). This model has a remote control which can be used to switch from one color to another and the transition looks very organic. The product is easy to be accessed using the remote control that keeps you away from the manual effort.
The premium version of the starry lighting 
Your journey will surely be infused with more adventure, fun, and excitement as you drive off for your most awaited trip. The star projector light on the roof will create your customized sky for you and your family.
It will render a view that your kids will enjoy, thus filling them with sheer enthusiasm that won't make the itinerary tiring anymore. This model which comes within $130 speaks for the money you invest in it, making you switch among most luxurious colors like red, green, and blue of this car interior ambient starlight.
The model has a magnetic and spherical design that can be adjusted for the projection of your choice. The switch between the three modes becomes very interesting in this version because the alternate transition of these three lights in-breath mode, flash mode, and music sensor mode is a delightful sight to behold.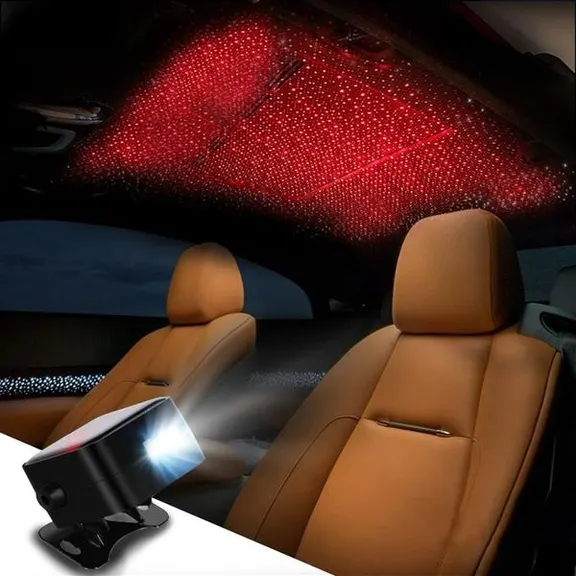 It can be said that these accessories are worth to invest in (depending on what fortune you set aside for your car) after all who wouldn't want to invest into the happiness that comes home in the guise of these fabulous car interior accessories by AoonuAuto, striving to infuse the required dose of fun in the journey.