The door sills have their own benefits when installed in the car. They do not just serve the primary purpose of accessorizing or beautifying your automobile bus also carries other brownie points along with it. LED door sills are perfect for family cars when you have senior citizens or children especially. These sills become the one strong guiding force to them as soon as the car opens and also help them to climb inside very swiftly. So no more bending your back and pulling up your children to be seated.
Moreover, these door sill plates are like plug and play because they have been designed as per the requirement of the car model and ensure a time-saving upgrade. They are sturdily made, scratchproof and allow a great balance while stepping on it. Being highly congenial with your car models there will be no trouble in installing the door sill. The steps below can easily guide you through the short process:
Locate the sight
It is very important to correctly find out the place where these illuminated door sills are to be installed, whether you wish to have them on front or rear or on all sides. It is important to first clean up the whole interface on which it is to be installed. If the sight is checked for any corrosion or rusting and cleaned, then you would minimize all the chances to affect the deterioration of this new upgrade in your cars.
Identify correct polarity bracket
The polarity of positive and negative has to be well-checked before fixing these door sill projectors.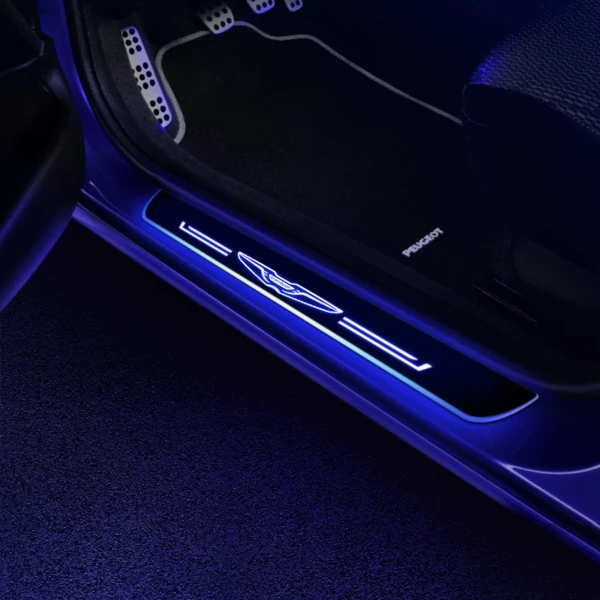 Just like you insert a battery (AAA or AA) in a clock or a toy, and if negative and positive sides are unmatched while gliding them in then, of course, the battery will not run. Similarly, is the case with this custom made door sill plates, if they are not located with positive and negative in a correct manner then it will not start working. So, this is another simple step of installation.
Wiring and install to the collect position
This part might sound tricky, but we at Aoonuauto can simplify this one for you. Once you have connected the red wire to the positive and black to the negative you are good to go and install it on the collect position. This part takes a few correct tactics in the placement of door sill entry lights.
Perfect fit
You need to finally press it a bit firmly in this step so that it fits deeply inside the mold. This is the final step and you are not away from testing it as soon as you open your car door.
Installing these door sills is not a complex process, better if you could 'Do It Yourself' else Aoonuauto is always more than happy to assist. The chic and elegant LED door sill protector lights are made of Japanese acrylic material which is highly suitable to be used anywhere in your car. So, you could even contact our team for getting fresh ideas on how to creatively install these LED door sills. In fact, there is another way in which you could install them in car boot also for a luxurious lighting effect.
With the above information, we have listed the procedure of how to install LED door sill lights in a car, so when are you installing in your car?