If you have seen any buggy racing sequence or evening car races, the lighten flag poles would be among the striking things you would consider getting for your car. Of course, whip lights are relatively uncommon to regular cars. Most owners think these are for simple showing off or ornamental accessories although these can add to safety of the car and that too, from faraway when you are driving in pitch dark condition. So, if you have considered getting these car exterior accessories, Aoonu Auto has it covered with its range of whip lights, as well as the peripheral accessories like light mount, spring mount and mounting brackets, bolts, screws and more. Here are the steps to choose whips lights –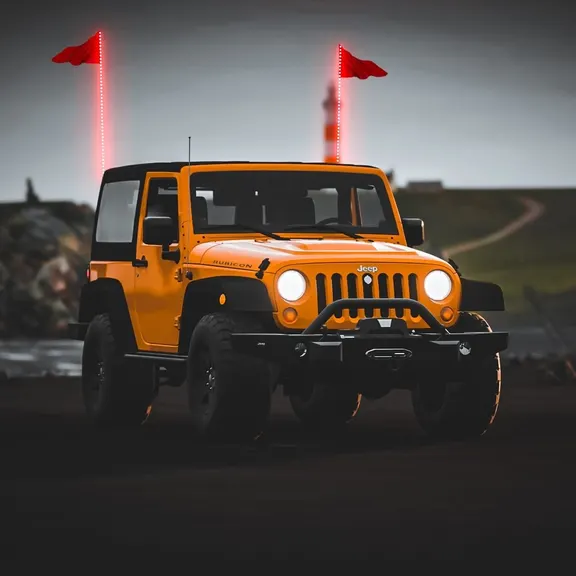 Transparent Double-sided or RGB 360-degree Lights
There are transparent and RGB tubes available for the lights where the former offers double sided illumination and the latter provides full 360-degree illumination. As a matter of fact, the transparent tubes come with LED strips at 120 pieces per meter while that in RGBs tubes are varied, for example 225, 315, 411 and 510 pieces or 180, 240, 300 and 375 pieces for two Premium version whips and 165, 240, 300 and 375 pieces for Intermediate version. S, according to your requirement of brightness, choose the ones suitable for you.
How Many Color Combinations And Modes Needed
The multicolored double-sided transparent LED whip lights and premium version spiral 360-degree lights will offer you over twenty color combinations along with twenty two color modes, eight brightness levels, sound and music synchronization, speed control and timer functions. If that seems a little insufficient for you, check out the other variants like super and intermediate version RGB 360-degree pole lights or the transparent double-sided RGB whip lights as these come with over 300 color combinations, over 22 one-touch modes, speed control, 200 modes, eight brightness levels, timer function and music and sound modes.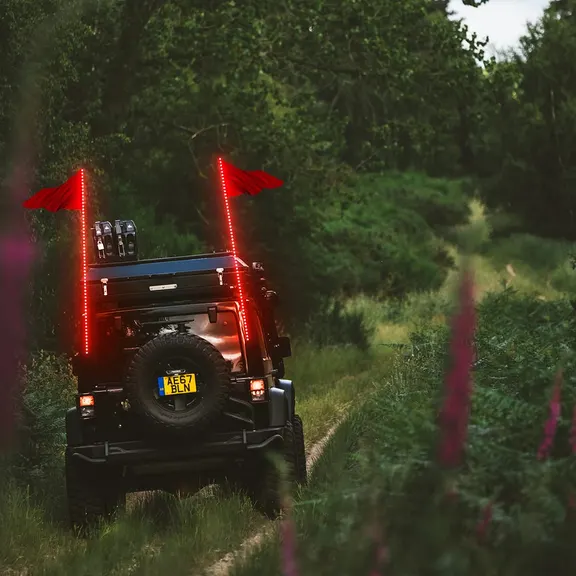 Size Of Whip Lights Matter
While choosing the car exterior accessories, you should make sure that the size of the lights is compatible with that of your car. For example, if you have a jeep or truck, going for the 6 feet rods can be good choices as these whip lights would not look overbearing. On the other hand, for small cars or buggies, you can easily go for the 3 feet or 4 feet whip lights. The lights from Aoonu Auto are available in 3, 4, 5 and 6 feet variants to help you choose what you need for a particular vehicle.  
Only Remote-controlled Or App Control Needed
As per your convenience, you can choose the whip LED lights with only remote control or both remote control and mobile app control. The multifunctional remote will help in turning the light on and off, select and browse through colors, select the speed and intensity of light effect, choose different lighting modes and return to demo mode. Mobile-users can make use of the app with Bluetooth control to select color and effect quickly or control several light units simultaneously.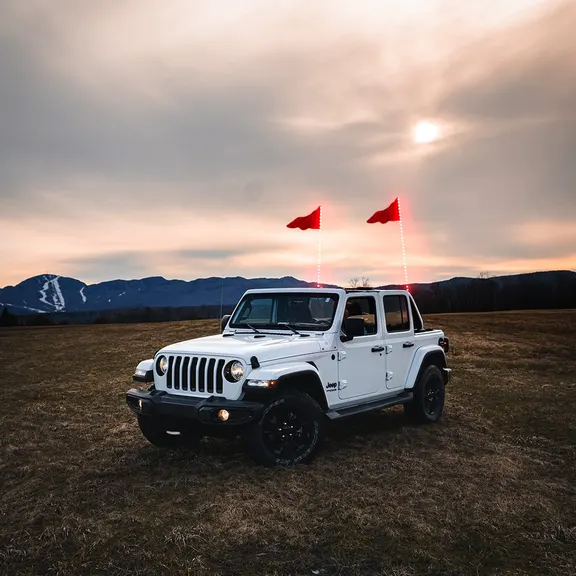 Apart from these, the lights from Aoonu Auto are also waterproof rated and the flexible polycarbonate housing is virtually unbreakable to withstand any terrain and weather. So choose your whip lighting carefully and get your style statement with convenience.