LED door sills are the popular accessories at AoonuAuto and with the launch of AA battery-powered door sills; it has become 'plug and play' ensuring installation in minutes.
Who doesn't like to indulge in luxury and class? All of us do! As soon as you buy an Audi you know you have made a great choice by investing your money into this four-wheeled beauty. Now to keep it lavishly upgraded you need an accessory that's high on physical appeal as well as a safety standard. Therefore, upgrade your Audi with a door sill scuff plate to fill the space with what your car deserves.
Let's find out the salient features of the new AA battery-powered Audi LED door lights and check what makes them different from general door sills:
Amazing specifications under $100
These scuff plates that are required to be installed on the front and the rear doors of the car are thin and sleek with 0.4cm of thickness only. They are made of Japanese Acrylic material and have high brightness LED which can glow in seven exotic shades of red, yellow, blue, white, green, rose red and colorful lighting.
Audi door sill plates work subtly with less than 0.5 A of current and illumine the car very decently without flashing into the eyes of the beholder. This accessory enhances the charm of the car to multiple folds at such an efficient price range.
AA battery power door sills vs. general door sill lights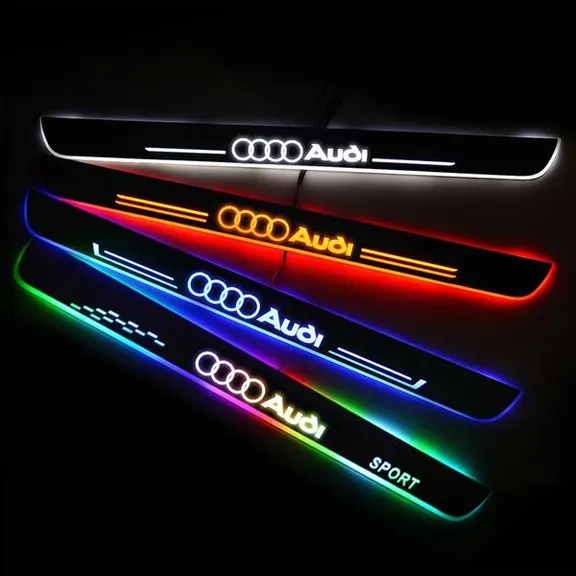 A general door sill light needs wiring and plugging the wires into the circuit, although not a troublesome installation, yet not as swift and quick as the new AA battery-powered ones.
With these new ones you don't have to ponder much about how to install Audi door lights, you just need to contact the team at AoonuAuto and buy the lights which go with your car model. Thus, making AA battery-powered sill lights to be more convenient and handy to use.
After receiving the package, you are good to go with installation, it's ready to play, just fix it by peeling off the 3M double adhesive tape and fix it into the scuff mold. You just need to put the AA batteries inside and no re-wiring, drilling, etc. has to be carried out.
Custom- made door sills for added safety for $90
So, $90 doesn't seem to be a big amount when it comes to adorning your Audi with these special lights which are not just elegant looking but have a great safety cover as well.
Once these lights are installed you know you will provide for safe entry and exit from the car for your children as well as people with low vision like elderly.
Mostly, on a long night drive, the illuminated door sills will come to your rescue because they facilitate you the easy judgment of the ground beneath you as soon as you decide to move out.
These door sills are absolutely customizable as guaranteed by AoonuAuto's wizardly craftspeople to ensure you the logo style and line style on the door sills as per your choice. The styling of the sill plate will attach great personal value to it.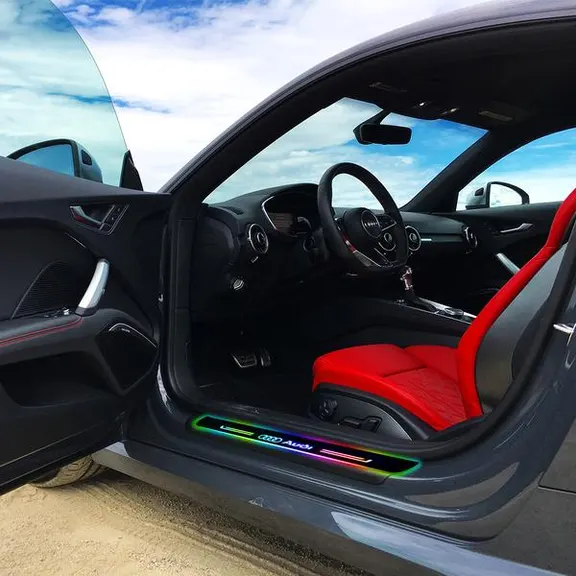 Time is valuable; therefore, this auxiliary by this online car store strives to provide you the best experience by being efficient and time-saving. These lights can make your Audi feel better and quipped with added convenience like never before.