Instead of settling for the default headlights that each car model comes with, many car owners are now going for replacement of LED headlights. The reasons behind this is quite simple, the LED headlight bulbs look suave, last way longer than the built-in bulbs and leave hardly any carbon footprint unlike the high power consuming bulbs. Available in single bulbs, as well as round or square shaped headlight fixtures, there are multiple options from Aoonu Auto and these do not cost sky-high considering the plethora of features that come with each. From the in-built default lights, these custom headlights are definitely an upgrade and here are the reasons –
Mini COB LED Headlights –Small And Costs Less
The six variants of the Mini COB headlights namely H1, H7, H8/ H9/ H11, 9005/ H10, 9006/ HB4, H4/ 9003 are the smallest of the headlights found in Aoonu Auto and therefore, helps you easily seal these directly inside assembly. Working as hole-less dust cover, the installation is non-destructive i.e. you do not need to alter any existing setup of the headlight frame. With operating temperature range of -40 degree Centigrade to 135 degree Celtigrade, the lights will last for up to 5000 hours with 60W power consumption.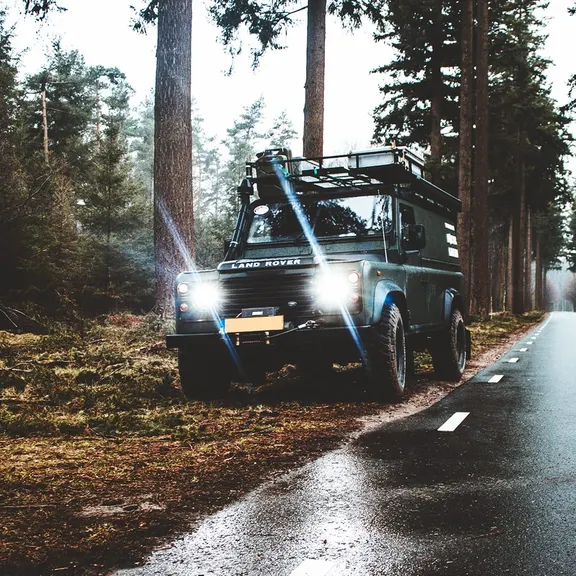 Mini7 CREE Headlight Bulbs –High Luminosity
Available with the same variants as the Mini6 COB lights, the Mini7 CREE comes with imported XHP50 lamp beads that guarantee 4800 lumens of brightness that is the new high according to the industry standards. The light concentration increases by 75%, thanks top the lenslets. These can be the best LED headlight bulbs in budget and lets you adjust these according to your preference of low beam and high beam. At 6000 K color temperature, these lights ensure precise glow and easy adjustment of lamp and current brightness as per your suitable interior ambience.
S6 CSP LED Headlights –Extensive And Safe Operation
Whether you choose the high beam variant or the low beam ones, the S6 CSP Headlights with 7600 lumens of luminous flux per pair can be used in all types of vehicles like cars, SUVs, trucks, RV, vans and so on. The HID Xenon car LED headlight bulbs feature fan cooling technology and integrated heat sink for avoiding overheating while its IP68 rating ensures safe driving in rainy or snowy conditions without damaging the fan and housing in water, mud and dust. There is continuous current control with anti-interference design of the circuit and its voltage range is between 9V and 36V.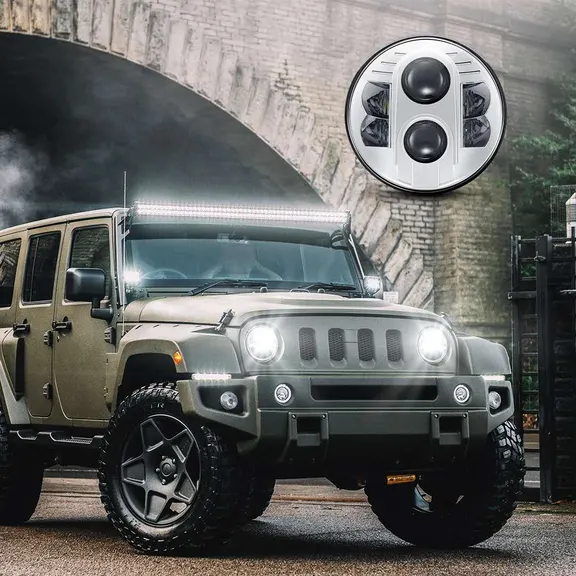 7" Round Daytime Running Headlight –Branded And Halo Effect
From Jeep to Alfa Romeo, Land Rover to Chevrolet, Ford to BMW –the 7 inches round DRLs and turn signal lights are available in different color variants like white, amber etc. The issue of LED headlight condensation is prevented by the IP67 waterproofing followed by sturdy polycarbonate lens and anti-fogging breathing vent. Up to 50000 hours of lifespan is guaranteed by this light and you can easily adjust the red wire for white lighting and yellow wire for halo effect. At high power, 3360 lumens and at low power 1960 lumens of brightness are offered.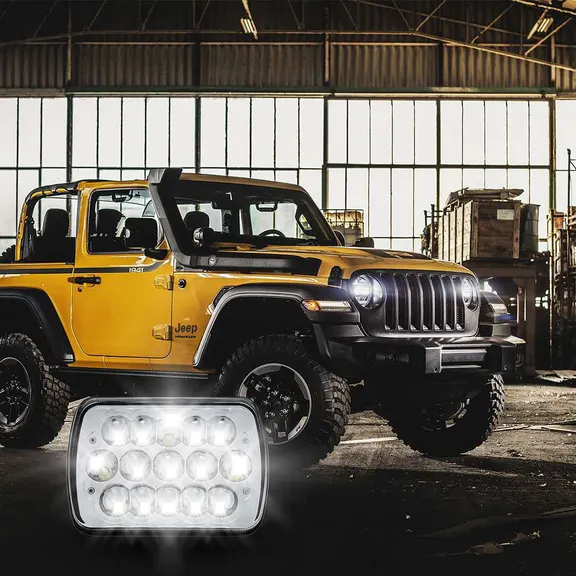 There are also the 5×7 and 6×7 rectangular and square headlights that are designed as brand-specific models and customized ones. These bulb-free solid state headlights are safe to use as the crystal clear lenses offer protection from external impacts and the LEDs are protected with water-resistant epoxy sealant and premium surge protectors.