If you want to modify your car, AoonuAuto is one of a kind of brand which is a master when it comes to car accessories, from budget-friendly to the trendiest accessories available including door sill lights.
Car modifying is not an easy job, and it is not cheap most of the time. But in reality, it depends on your requirements what you're modifying in your car. These car brands along with AoonuAuto's doorsill light can be the best addition to your car within your budget.
Let's flash a quick look on these car models which can glamorize the entry gate of your car:
BMW Car Door Sill Protector- $89.99
BMW the name in itself is one of the most valuable luxurious brands globally. AoonuAuto takes the extra responsibility to make it nothing less than the fab, when you open the door the bright LED with logo embedded on it will take an extra effort of your to praise its quality and durability. These door sills are compatible with all the latest BMW car models. The illuminated door sills are a perfect combination of grace and technology that makes your car look beautiful inside and out.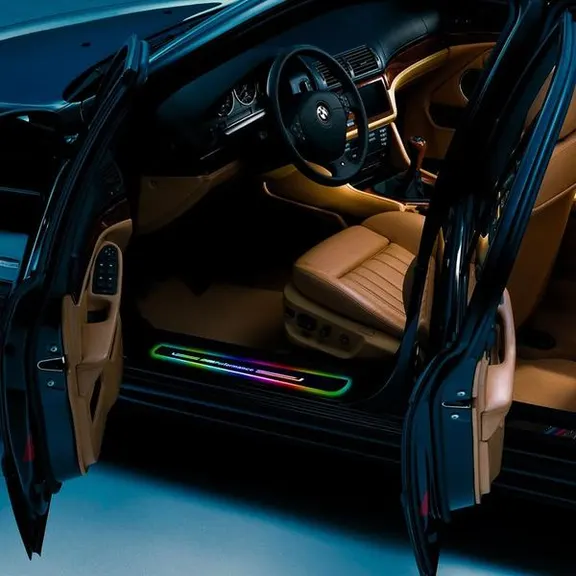 Mercedes Car Door Sill Protector- $89.99
AoonuAuto is one of a brand that made accessories not only for a few brands, in fact, but the brand also covers more than 15+ brands. Mercedes is one of the most selling luxurious car brands globally. Mercedes has a long history when it comes to car design and currently, Mercedes Benz is the most selling class, AoonuAuto's door sill is available at an affordable price which will be fit in your budget.
Door sill light enhances the whole new look of entry and exit of the car and it is tough enough to bear the mucky shoes or the weight of the individual even if one steps on it, without damaging the door sill lights.
Porsche Car Door Sill Protector- $89.99
The name itself is a brand with the addition of the name of AoonuAuto, it becomes much more special when it comes to interior look. AoonuAuto takes strict measure and delivers accurate size car accessories as per car models. After being an owner of Porsche if you're looking for a budget-friendly car door sill light then it is one of the best options you get from AoonuAuto.
Audi Car Door Illuminated Sill Protector- $89.99
Upgrade your car's exterior style and provide good lighting guidelines for entering your car. When you open the door, the door sill pan lights up and displays the vehicle's name and logo, which helps to get in and out of the car more easily in dark areas. They close automatically when the door is closed. Bring a new, elegant look to your car.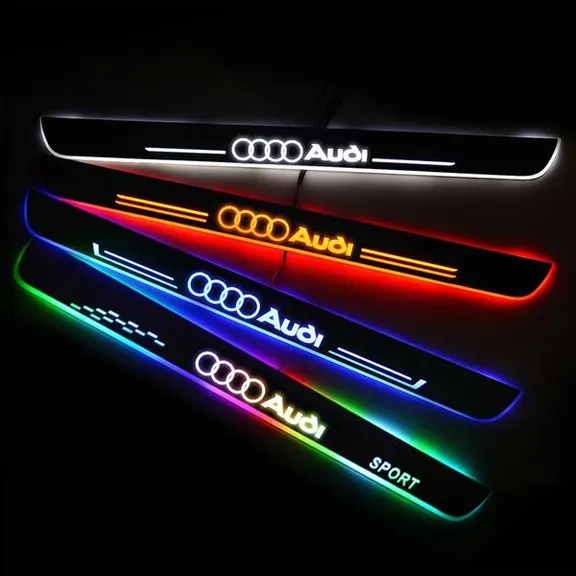 Now let's throw light on the features of Door sill lights:
Creative, attractive and add-on safety measure
The auxiliaries by AoonuAuto look lavish, attractive and have a creative design of their own, which will give your cars the most customized look. All the car accessories have been bought by the best of sellers which emphasizes greatly the product's high-end quality.
They are highly recommended for all because they are waterproof accessories, anti-corrosion, and anti-scratch, therefore proving all its amazing features.
Customizable Friendly
It is to be noted that these lights are customizable at AoonuAuto as our team will give you a range of options to make the LED sill appear as you wish.
You could choose from varied logo styles, line options, size and icon placement, all can be designed as per your taste to correspond your car with your taste and fondness. Thus, you should surely try AoonuAuto to own your custom made illuminated door sills and savor that experience of uniqueness and pride.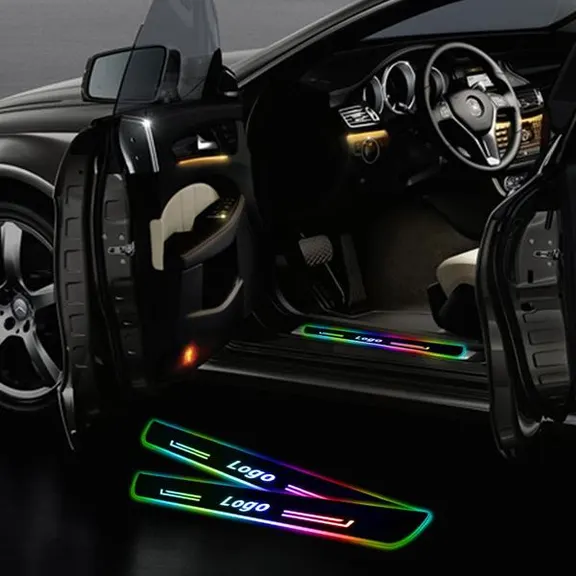 Well, it is indeed a commendable accessory that comes at a huge bargain at AoonuAuto's online store. This is a bright LED system of lights that make the entry and exit of the car safe and secure, and still vibrant. So, get ready to make this custom illuminated sill your own, at the earliest.