Let's take FORD accessories one by one into account, all the available options which can be explored from AoonuAuto to give your Ford an upgrade.
Ford is a brand that speaks strongly of its magnificence, compact nature, grandeur, elegance, and style. All its cars have been engineered beautifully and it has an appealing design value too. AoonuAuto thus kept in mind the aura of these cars, thus they have come up with an array of accessories that would just manifest themselves as soon as they join Ford's journey.
Let's list out the various accessories which can be considered to e adorned in your Ford cars:
Get gorgeous DRLs for your Ford
The DRLs for your Ford will make an amazing purchase since they will cater to the purpose of both safety and style for your car. The DRLs' primary function is to alert about the presence of your car on the road which is otherwise overshadowed by the dim ambiance on the road.
Before making a final purchase it is better to confirm your car model with AoonuAuto to rest assured that the fixture would be organic and authentic. The daytime running lamp is an accessory which lessens the risks of accidents too.
Enhance the beauty of your car with a subtle atmospheric light
It is crucial to paving a happy and safe way for yourself as you climb inside the car and land in a safer place. Cushioning the floor of your car with LED foot mats in your Ford with this authentic AoonuAuto's accessory will render you great comfort at all times.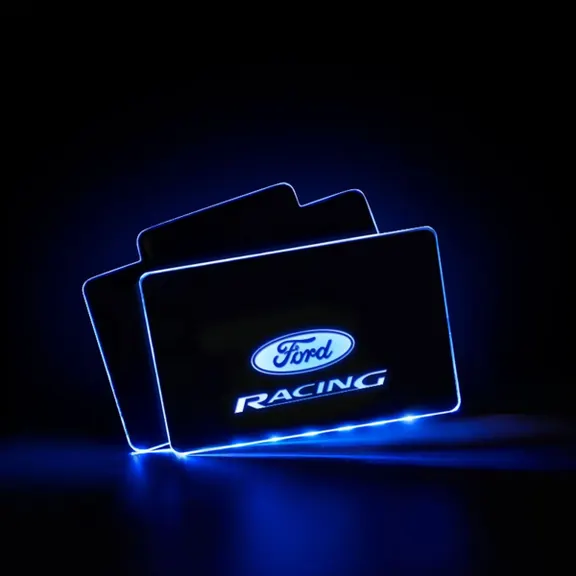 The Japanese acrylic material which this mat is made of is so flexible yet sturdy and is completely water-resistant. It can easily withstand a mucky shoe without damaging its quality. It is an excellent choice if you often go on road trips with kids because even if they spill a drink or two, your car's floor can be wiped off so easily.
Sip your favorite drink in your Ford in an innovative way
How rejuvenating it is to drink a hot cup of coffee after a heavy day at the office? What if you experience this pleasure without any worries or apprehensions over drinking a hot coffee while driving? Well, with AoonuAuto you can pour yourself this soulful drink as you drive.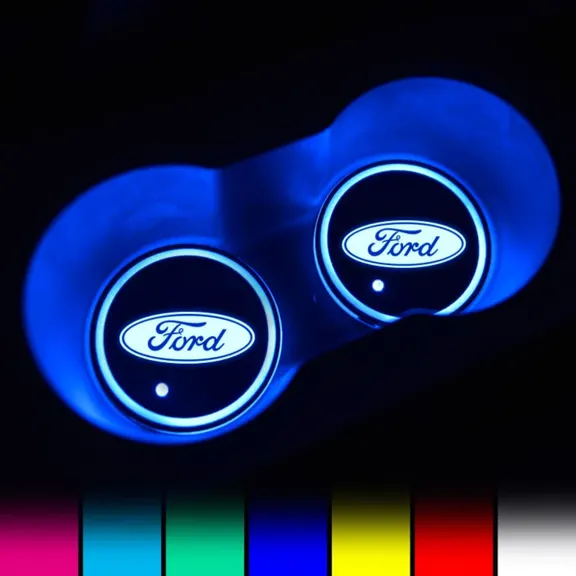 The LED car cup holders are sleek, chic and beautiful looking pair of coasters which illumine the whole dash area with soft lighting as well as ease your drive. They are so convenient and handy, anti-spill, anti-scratch and waterproof. These pairs of coasters can be charged with the help of a normal USB charging port which cuts off any trouble of carrying spacious chargers. If charged for two hours they give a good power backup of up to 15 days.
Door sills and door projector lights
The entry sill lights form a great security feature for any car, especially if you are accompanied by the elderly and kids. The LED door sill is available in different colors, is easy to be installed in your Ford and gives a good climb while in or out of the car.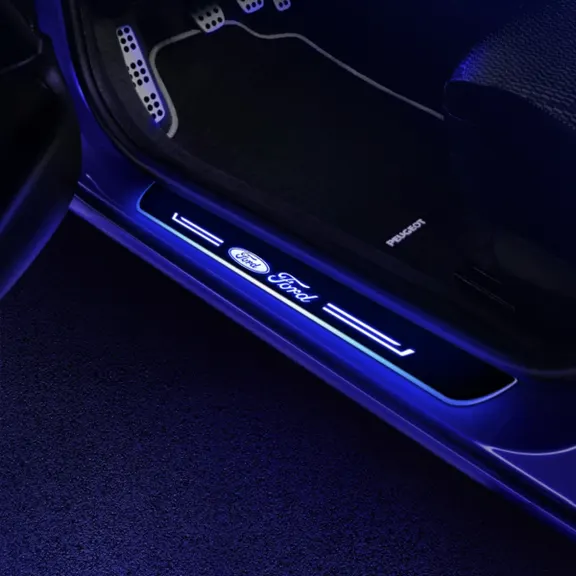 Similar, to above is the LED door logo projector which illumines the solid ground as soon as the car door opens. Although, the primary function of this accessory is to project the name of the car brand you own, yet it provides safety by letting you know where you are going to step? These accessories work wonderfully at night and enhance your FORD driving experience.