People say that clothes make the man. A good horse with a good saddle, a good car with nice lights. For popular car brands Dodge and Ram, AoonuAuto offers a wide range of amazing custom car accessories rocking in 2022.
"Guts. Glory. Ram." Ram Trucks, stylized as RAM and formerly known as the Ram Truck Division (of Chrysler), was established in a spin-off from Dodge in 2010 using the name of the Ram Pickup line of trucks. Till today, many car owners still have strong feelings for Ram and Dodge cars.
However, there are not many modern auto parts and LED car lights suitable for RAM and Dodge cars. It is gratifying that, despite the changes of the times, some auto parts manufacturers that respect diverse brand visions still integrate modern car accessories with classic feelings and brand slogan, providing RAM and Dodge cars with modern customized auto parts fitting for contemporary aesthetics.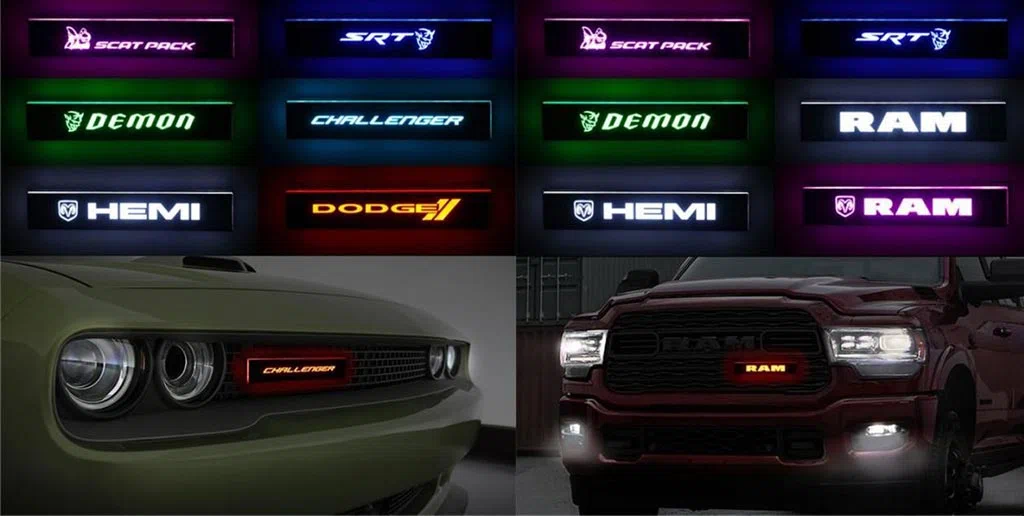 Introduction to AoonuAuto
Aoonuauto is one of the world's leading suppliers of advanced customized cool parts for automobiles. They offer a wide range of accessories to help car owners personalize their vehicles and make it their own. "Customer First. Every individual is a shining star." — It's their basic concept which AoonuAuto keeps. "We believe that your car should reflect your personality, and our accessories are designed to do just that." said by Mr. Huang, the CEO of AoonuAuto.
From exterior auto accessories such as splash guards, DRL lights, tail lights, work lights, flip lights to interior car accessories e.g. LED door sills, cup coasters, cup holders, air freshener, LED floor mats, handle bowl lights, door light projectors etc., AoonuAuto continuously develops and manufactures personalized car accessories products to meet the demands of the people in the field of car decoration with the latest technology and materials.
This unique custom auto parts manufacturer that specializes in custom LED lights for car has long earned a solid reputation for providing car owners with unique car parts and accessories that embody their peculiar tastes and amplify the beauty of their automobiles.
Different Types of Custom Car Accessories Offered by AoonuAuto for Dodge and Ram Cars
What will it be after combining the classic and wild style with modern automobile LED lights and accessories? The answer is "Glory and Cool"!
Dodge Logo and Ram Logo LED Car Door Sills and Car Door Projector Lights
Over the years, car door sill plates have transformed into more than simple protective coverings. Illuminated scuff plates help drivers and passengers to see when stepping in and out of the car at night. Making the scuff plate illuminated helps boarding or de-boarding the car easier, when in dark areas. The Illumination light up with car logo the moment car door is opened- adding to the 'wow' factor. With Dodge logo or Ram logo lighting up in different colors, the illuminated scuff plates allow drivers to express their individual styles.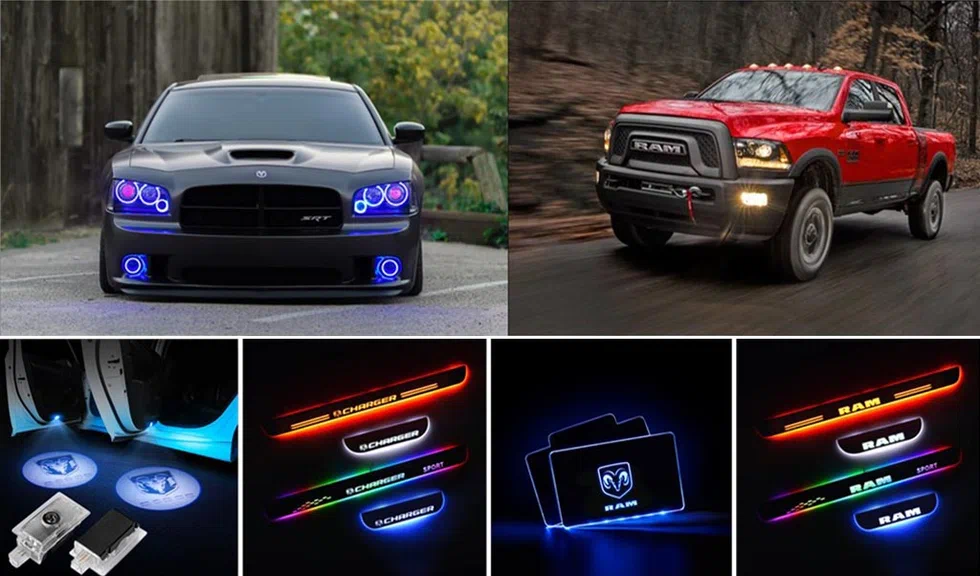 Meanwhile, another cool car accessory of the car doors to add glamour is car door lighting projector. The ghost shadow LED car door projector lights shine extraordinarily with Ram and Dodger logo on the ground not only showcasing the car brand but also enhancing safety when the car doors get opened.
Besides, the car door handle bowl lights customized with Ram logo and Dodge logo can also be considered to show your personality but not so outstanding compared with LED car door sills and projector lights.
Ambient Lights and LED Car Floor Mats of Ram Logo
For pickups like Ram 1500 or 2500 and Dodge Charger which look hard and full of muscles, the colorful LED floor mats printed with Ram logo or Dodge logo make them look more gorgeous and graceful on the original basis of tough style. In addition, the interior ambient LED lights kit exude an elegant and romantic atmosphere. It can switch a variety of beautiful colors and modes by remote control to provide 360-degree lighting for the car interior. The LED accent light is soft and will not affect the normal driving. When opening it, drivers and passengers will enjoy a super cozy, elegant and romantic air in a wild and muscular vehicle like Ram 1500, Ram 2500, Dodge Charger etc.
Car accessories for Ram and Dodge vehicles enhancing safety
Daytime running lights (DRL) are automotive lighting devices on the front of motor vehicles that automatically switch on when the engine is running intended to help drivers see the road better and help other drivers see you better. It's becoming more and more essential for drivers to upgrade the headlights bulbs with DRL lights ensuring more safety on the road.
Splash guards are absolutely essential accessories for Ram pickups and Dodge cars as the flap guards help reduce the amount of dirt and grime that gets on the vehicle and provide an extra layer of protection from scratches especially driving on rough roads or in bad weather.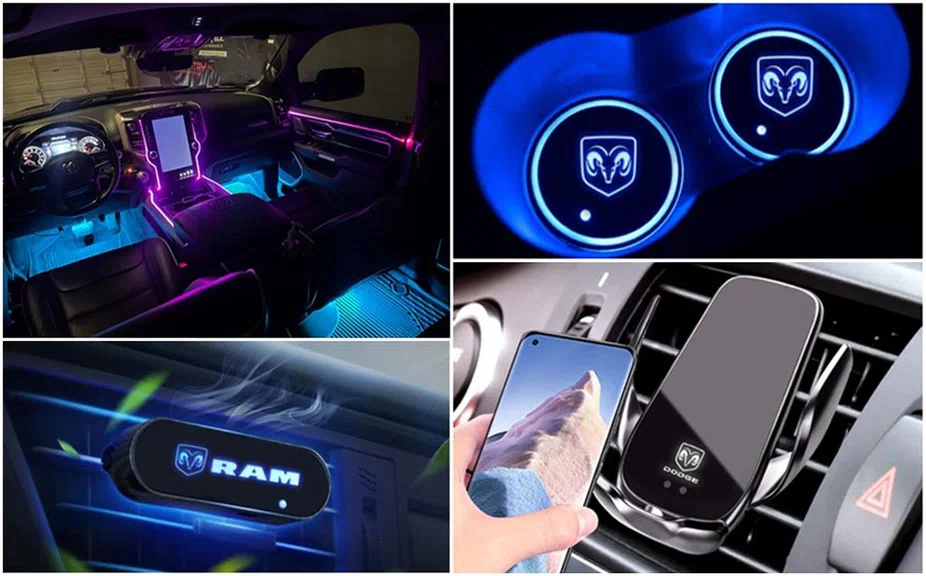 Car Gadgets customized with Ram Logo and Dodge Logo
Absolutely, decorating vehicles with LED lights like illuminated car door sills, door projector lights and so on seems the simplest way to change the automotive appearance. Anyway, there are some other special accessories for Ram trucks and Dodge vehicles. LED car emblem, phone holders, cup coasters, air freshener etc. all can be customized with car logo as the customization needs. They're also some smart gadgets to decorate vehicles and show uniqueness.
Benefits of AoonuAuto Custom Accessories for Cars
AoonuAuto is committed to offer premium custom LED car lights and car accessories. These advanced lights provide many benefits over traditional halogen bulbs, making them the perfect upgrade for vehicles. Here are just a few of the advantages of AoonuAuto custom LED car lights.
Brighter light output. LED bulbs produce a much brighter light than halogen bulbs, giving you better visibility on the road.
Lower power consumption. Car LED lights are more energy-efficient than halogen bulbs, meaning they'll put less strain on your car's electrical system.
Longer lifespan. With proper care, LED bulbs can last up to 50,000 hours – that's 10 times longer than halogen bulbs!
More rugged construction. Car LED bulbs are more resistant to vibration and shock than halogen bulbs, making them ideal for off-road driving.
Safer operation. LED bulbs run cooler than halogen bulbs, reducing the risk of fire in the event of an accident.
If drivers looking for premium custom car accessories for Dodge cars or Ram pickups, AoonuAuto is the place to go. They offer a wide selection of high-quality accessories that are sure to make vehicles stand out from the rest. More important there's a professional automotive expert team supporting for each individual driver or car enthusiast's customization demands.