Nowaday, more and more people upgrade the car light to make the car look high-end and cool. The Car Interior LED Accent Kit or names foot-light is good for upgrade the Interior light. Because it is easy to install and no drilling, no wiring, no disassembling, no damaging. The lighting effect is also the most fascinating.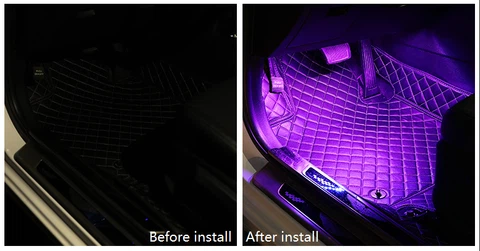 In general, the foot-light kit has two kinds of interface, USB connector and cigarette lighter connector, plug and play. If you want to connect the wire directly, you need to choose the cigarette lighter connector and cut the connector . Because the voltage of the wires in the car is 12V and the cigarette lighter connector is DC 12V. The USB connector only DC 5V.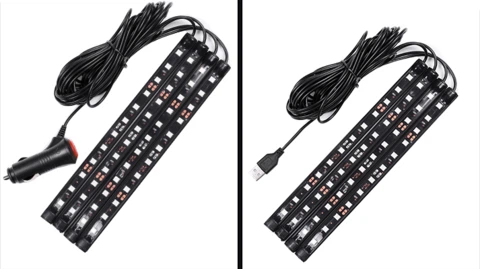 Each light strip has 3M Double-sided adhesive straps on the back. 3M double-sided adhesive has strong sticky and can be used repeatedly, waterproof.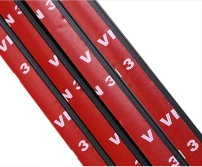 The light strips install under the dash and front seat. The installation position needs to be cleaned before install to prevent dust from affecting the paste effect. Peel off the adhesive film and stick the light strip directly to the position where it needs to be installed. And then, tidy and hide the wires. Finally, connect the power and you can enjoy the atmosphere light.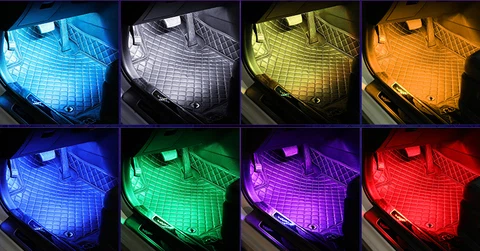 Eight kinds of light colors, different colors suitable for different atmosphere, can be switched freely according to the mood. It creates a charming atmosphere. With infrared wireless control to change the color as you wish. Music Sensor Modes, Sound Sensitive Function, enjoy color changing according to music rhythm. Give you a very comfortable enjoyment. The itinerary is no longer boring.