With this Aston Martin LED door sill, when you open the door, the door sill panel will light up and display the name and LOGO of the car, which looks very gorgeous. There is 3M double-sided tape on the back of the sill trim panel, the installation will not damage the car itself. IP67 waterproof, easy to clean, and can work for a long time.
If you want to add some fashionable accessories to your car, then AOONUAUTO LED door sill is a good choice. Because it can be customized, you can customize various patterns, text, LOGO, etc., full of personalization. It is wear-resistant, corrosion-resistant, has an IP67 waterproof rating, and is easy to clean, without worrying about water droplets and mud sticking on it. It has 7 light colors, each of which is very cool and makes your car look very different.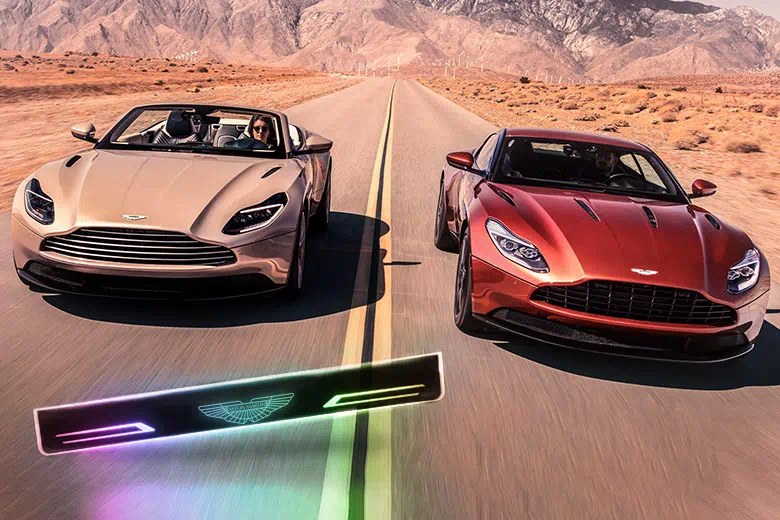 If you are a car modification enthusiast, then you can take a look at this Aston Martin LED door LOGO projector, it will not destroy the original appearance of the car, but will bring more superiority and driving pleasure to the driver. It can make your car look different, and it can also provide lighting. The projected pattern also provides customized service, as long as your picture is high-definition, AOONUAUTO can customize it for you!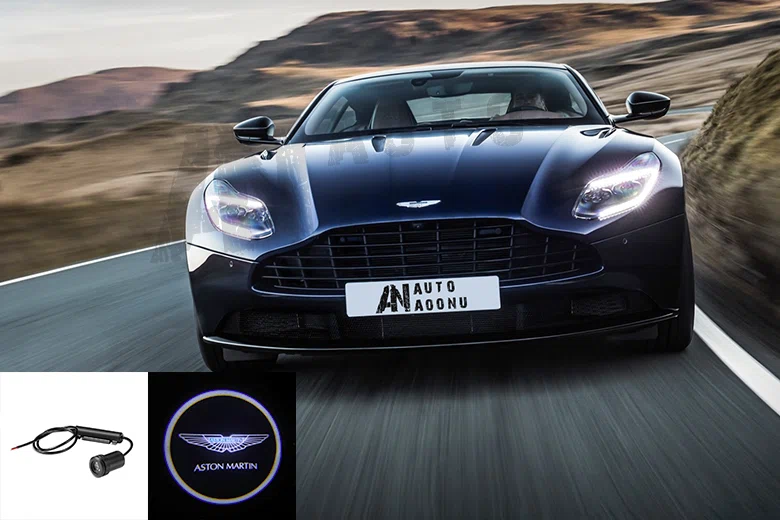 This is a gorgeous and cool Aston Martin LED floor mat. You can customize your exclusive logo on it. The color of the light can be switched remotely, and there is a sound sensor mode, that is, the light flashes with the rhythm of the music. Not only does it make your car look more upscale, but it also provides additional lighting to make passengers more relaxed.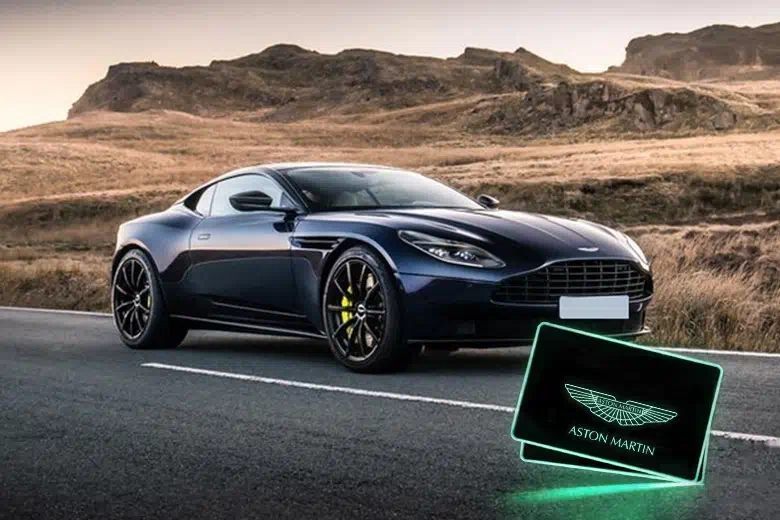 When your car installs this Aston Martin LED underbody light, it will be very compelling on the road. It not only makes your car look gorgeous and unique, but also the bright light can remind other drivers to keep a safe distance.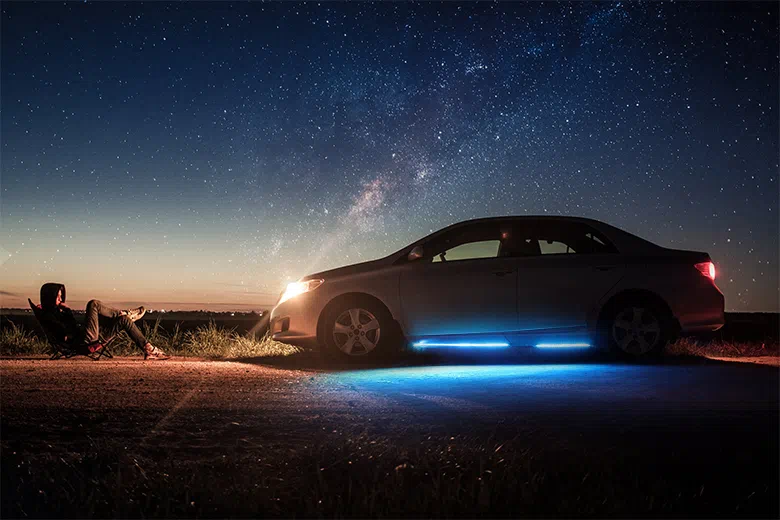 There are a variety of interior mood lights to choose from. Light soft solid color ambient light or bright starry sky light. They are multiple colors of lights and multiple modes to choose from. The light is soft, there is no radiation, it can provide lighting for the car, and it looks very beautiful.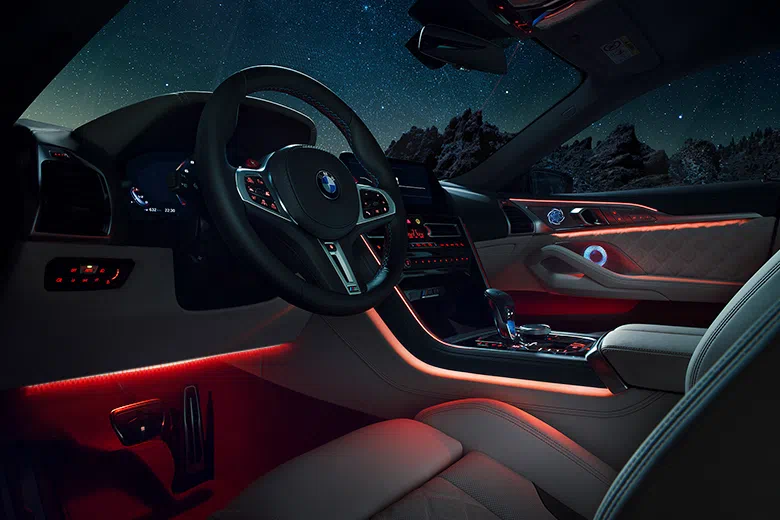 A thin and flexible daytime running light strip that can be installed DIY. No need to disassemble the headlights, and the length of the strip can be cut by yourself. If you want to add daytime running lights to your car, it is a hassle-free choice.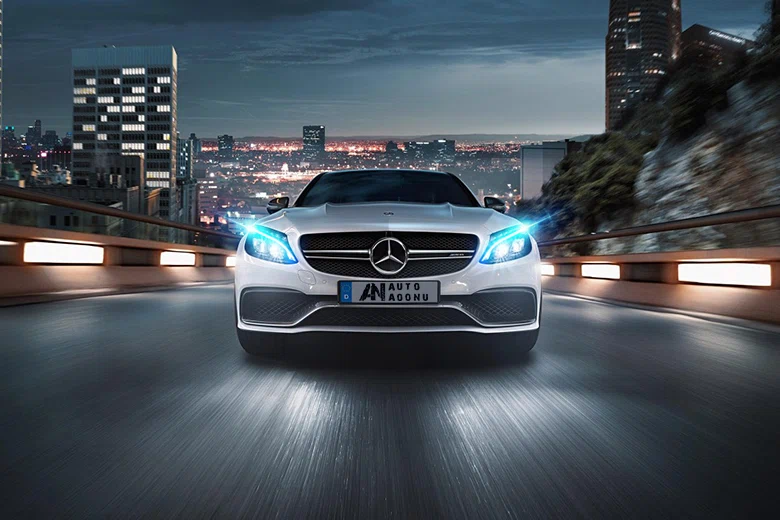 This tailgate light bars can not only bring you safety, reduce and prevent rear-end collision accidents, but also add fashionable and cool elements to your car. Tailgate light bars are composed of many super bright LED lights. It has a long service life, durable, no pollution, low energy consumption.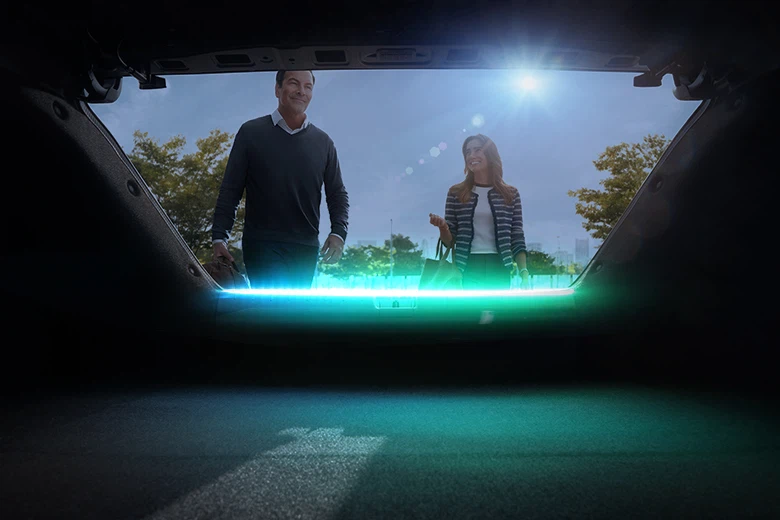 Using this third brake light, when you brake, it can emit a brighter red light than an incandescent lamp, which better protects your safety. It is waterproof, pollution-free and durable. The installation is simple and will not damage your car.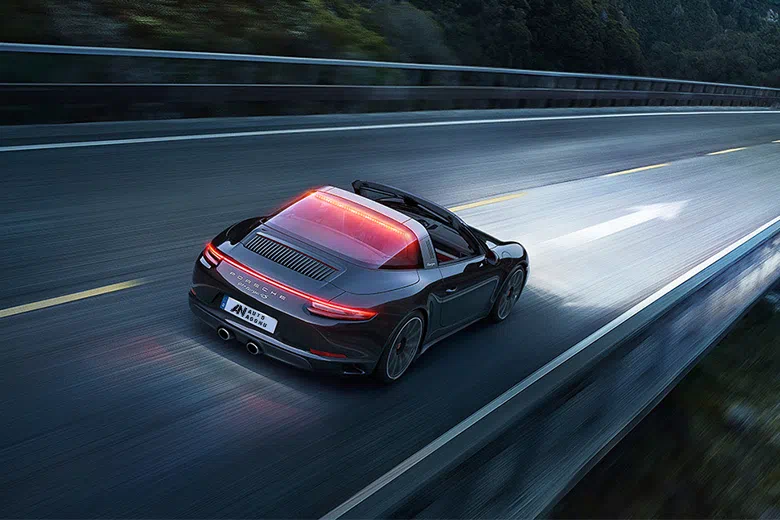 This Aston Martin LED cup coasters can provide you with good lighting. It has 7 colors to choose from, with soft light and gorgeous colors. Can create a warm and pleasant atmosphere for you. At the same time, it is waterproof, abrasion-resistant, and high-temperature resistant, so there is no need to worry about spilling liquids or placing hot drinks. Customizable patterns make the coaster more personal style elements.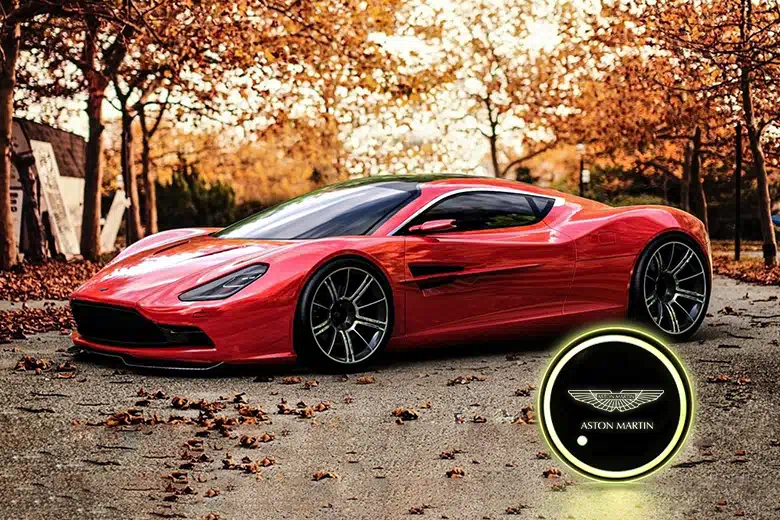 This Aston Martin LED aromatherapy diffuser has a fresh and pleasant fragrance, soft and comfortable lighting, as well as advanced control settings, which are very easy to open and close. Of course, its installation is also very simple and non-destructive. It will definitely make you feel comfortable and pleasant while driving.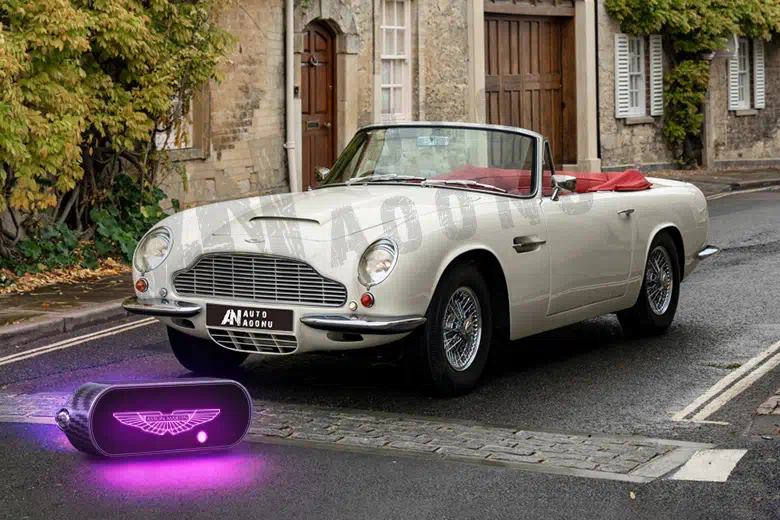 If you are an outdoor enthusiast, then this LED whip lights is not to be missed. It has anti-vibration mechanism and solid bracket so that it can withstand any difficult terrain. IP67 waterproof, can be used in heavy rain or harsh environments. No matter what type of vehicle you drive or where you are driving, you don't have to worry about its lifespan, just enjoy outdoor life.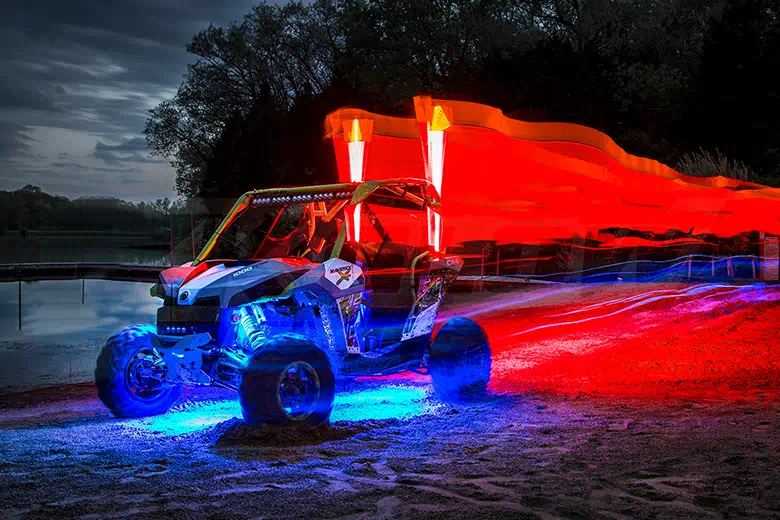 The appearance of the aromatherapy box is simple and stylish, and it looks high-end whether it is placed in the car or in the office. The fresh and pleasant fragrance stays in the air for a long time, which can effectively eliminate peculiar smell. Just rotate and open the lid, and the aroma will automatically escape in the car. If you have customized needs, we also provide specialized customized services.
Aston Martin Lagonda is a British independent manufacturer of luxury sports cars and grand tourers. Its predecessor was founded in 1913 by Lionel Martin and Robert Bamford. It became associated with expensive grand touring cars in the 1950s and 1960s, and with the fictional character James Bond following his use of a DB5 model in the 1964 film Goldfinger. Their sports cars are regarded as a British cultural icon. In 1915, the first car with the brand name Aston-Martin was assembled. The brand claims that it specializes in manufacturing racing cars that can be driven on general roads.
In the 1950s, Aston Martin began to produce its landmark classic DB series sports car. In April 1950, they announced planned production of their Le Mans prototype to be called the DB2,[33] followed by the DB2/4 in 1953, the DB2/4 MkII in 1955, the DB Mark III in 1957 and the Italian-styled 3.7 L DB4 in 1958. Aston Martin yielded the famous DB5 in 1963. Aston stayed true to its grand touring style with the DB6 (1965–70), and DBS (1967–1972). The six-cylinder engines of these cars from 1954 up to 1965 were designed by Tadek Marek.
The V8 Vantage was introduced in 1977 and the convertible Volante in 1978. The one-off Bulldog styled by William Towns in 1980. Towns also styled the futuristic new Lagonda saloon, based on the V8 model. In 1999, the new member of the DB7 series, V12 Vantage, came out, and the V12 Vanquish version was launched in 2001. The convertible version of the DB9 Volante was released at the 2004 Detroit Auto Show. It replaced the 10-year-old DB7 model. In 2006, V8 Vantage went into production.
The Aston Martin DB11 debuted at the Geneva Motor Show in March 2016 as a replacement to the DB9. It is a high-performance GT sports car, a combination of Aston Martin's century-old heritage craftsmanship and modern advanced technology. In June 2018, Aston Martin unveiled the Aston Martin DBS Superleggera as the marque's V12 flagship grand tourer based on the DB11 V12 but featuring modifications that sets it apart from the DB11 lineage as a replacement to the Vanquish. This car uses the iconic DBS name plate used by both the original DBS and the DB9-based DBS V12. In addition, the car also uses the Superleggera name which is a tribute to Carrozzeria Touring Superleggera, who helped Aston Martin develop their lightest.
Aston Martin has always embodied a kind of elegance. This perfect combination of elegance and speed has created today's Marston Martin, which is strong but not restless, outstanding but not ostentatious, dynamic but not anxious, Elegant and not pretentious. AOONUAUTO has high-quality automotive lighting parts, which can upgrade your automotive lighting solutions. Among them, customizable products can add your personalized elements to create your unique car appearance.
Model reference:
BULLDOG, CYGNET, DB11 Vantage, DB11 Volante, DB6 Vantage, DB6 Volante, DB7 Vantage, DB7 Volante, DB9 Vantage, DB9 Volante, DBS Coupe, DBS Vantage, DBS Volante, LAGONDA I, LAGONDA I Shooting Brake, ONE-77, RAPIDE, TICKFORD CAPRI, V12 Coupe, V8 Vantage, V8 Volante, VANQUISH Vantage, VANQUISH Vantage (R2), VANQUISH Volante, VANTAGE Coupe, VANTAGE Vantage, VANTAGE Volante, VIRAGE Limited Edition Vantage, VIRAGE Sedan, VIRAGE Shooting Brake, VIRAGE Vantage, VIRAGE Volante, ZAGATO Vantage, ZAGATO Volante